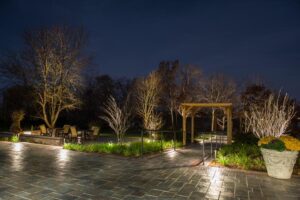 At first look, the advantages of LED landscape lighting vs. halogen lighting could be more apparent, especially considering the price. LEDs can be up to six times the cost of halogen lights. As a result, buyers purchasing LEDs for outdoor lighting may be discouraged by the initial expense. However, despite this notion, LED lighting offers numerous advantages. Continue reading to learn more about LED lighting and how Aqua-Bright can provide you with an estimate regarding your landscape lighting today!
LEDs Are Energy-Efficient
Energy efficiency is one of the most significant advantages of LED landscape lighting. LEDs are the most energy-efficient bulbs, providing direct light without requiring or emitting much heat. As a result, they outperform incandescent and halogen bulbs in terms of efficiency. On average, LEDs use around 75 percent less energy than traditional incandescent lamps and last 25 times longer. All bulbs installed by our technicians come with a five-year warranty. 
Environmentally-Friendly Lighting 
LEDs are a sustainable lighting solution for landscape lighting due to their energy efficiency and durability, but they also do not contain harmful components such as mercury. They also have no specific recycling requirements, making them a more environmentally friendly alternative to traditional bulbs. Are you ready to reduce your carbon input? If so, contact Aqua-Bright today, and we can provide you with an estimate for your upcoming lighting project. 
Durable Lighting 
LED's longevity stems from the fact that they lack filaments and are insulated with plastic. They are shock and vibration resistant and function well even in extreme temperature swings, making them ideal for outdoor illumination. LED lighting fixtures are typically available in high-quality finishes like brass, bronze, and copper, which adds to their durability.
Less Maintenance With Led Lighting 
LEDs are the lowest maintenance option on the market, with up to ten times the lifespan of conventional bulbs. In other words, LED landscape lighting can last up to 20 years (if used up to eight hours per night) with little or no maintenance! With our seven-year warranty on new lighting systems, you'll be sure to endure minimal upkeep while preserving your LED lighting.
Easy Access For Retrofitting 
Many homeowners believe that upgrading to LEDs necessitates replacing their outdoor lighting system, which can be expensive. However, this is not the case, as older systems can be easily retrofitted with LEDs. 
Exceptional Light Quality
LEDs' high-quality light is especially sought in landscape lighting since its color temperature and rendering are more natural than conventional bulbs. LEDs come in various colors, making choosing the ideal one for any purpose or setting more accessible.
As Always, Don't Hesitate To Contact Aqua-Bright For All Of Your LED Landscape Lighting Needs!
You can trust the Aqua-Bright professionals to design and install your custom lighting design. We service clients throughout several Maryland counties, as well as Washington DC and Northern Virginia. You can read our customer reviews on our site to learn more about how we provide excellent results. For a consultation and to hear what we can do for you, give us a call at (410) 489-9009 or submit our Quick Contact Form online. You can also follow us on Facebook, Twitter, and LinkedIn to receive the latest updates on our lighting services and projects.