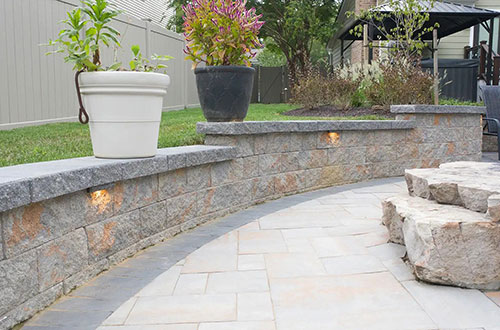 What's better than relaxing on your patio during sunset or entertaining guests on a summer night? Homeowners everywhere want the opportunity to enjoy their landscape once the sun goes down, and landscape lighting is the best way to do so. We offer a variety of custom lighting systems that can be installed for:
Front Porches and Steps
Patios, Decks
Fireplaces, Fire Pits
Walkways
Increased Safety & Security
Lighting your landscape eliminates the dark areas of your home's exterior for better safety and security. A well-lit exterior decreases the risk of crime and improves safety in hazardous areas. It is critical to have lighting in high-risk areas. By adding lighting to the darkest areas of your yard, you can prevent burglaries and vandalism. Steps, drop-offs, or walkways are wise choices to place lighting to avoid injuries.
Boosts Curb Appeal
Professionally installed lighting around your deck or patio highlights the best areas of your yard and makes your property look more appealing. Without light, you cannot see a home's features or landscaping. It literally gets lost in the dark. A perfectly illuminated home will stand out among the neighborhood, and the lighting elegantly enhances architectural and landscaping features.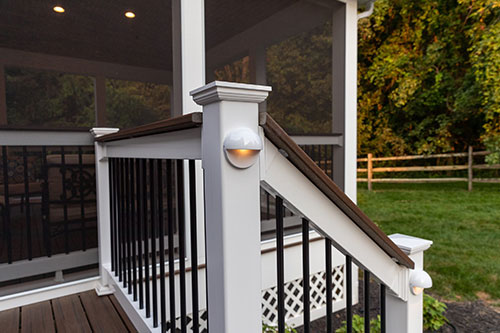 Extends Outdoor Living Spaces
Many homeowners enjoy spending time on their deck or patio, sitting by the firepit, or late strolls in the garden. If you want to extend the use of your outdoor living space after the sun has gone down, outdoor lighting is essential for spending more time outside. You can use your outdoor areas more often and relax in the safety of seeing what you are doing.
Easy to Use
A professional landscape lighting system can be programmed to turn on and off automatically, so you never have to worry about it. Also, ongoing maintenance programs ensure your system continues to perform year after year, making it that much easier for you.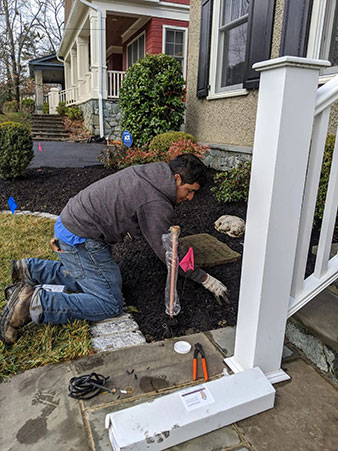 Our Installation Process
Whether you need lighting around your patio, on your deck, or up the stairs, Aqua-Bright is here to help! Our design team will assess your property to determine the best lighting solution to suit your needs, including the placement and type of lights. It is a minimally invasive process. We can usually install a typical lighting system in a day. You won't even know we're there! We can also install accent lighting for special areas, such as fire pits, fireplaces, and gardens.
We offer customized maintenance plans for our lighting systems and our professionally-trained service technicians complete everything. This constant care for your system will ensure that the system remains operating as efficiently as possible throughout the year.