Outdoor landscape lighting can be one of the best investments you can make for your home's exterior. At Aqua-Bright, we offer custom lighting and design solutions for your landscaping and outdoor living spaces. We also provide repair services to help homeowners maintain their landscape lighting, such as a bulb replacement or system refresh, to a full system control check or upgrade.
Customized Maintenance Arrangements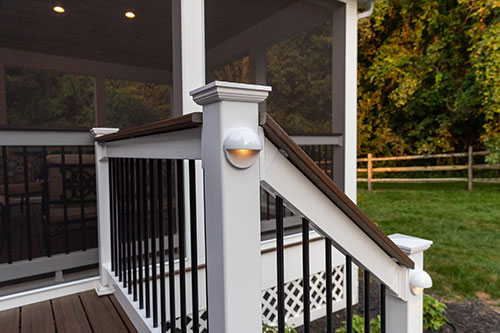 Every home is different, so each landscape lighting setup has its unique needs. We offer customized maintenance plans depending on our customers' needs. Some examples include:
Bi-Annual site visits: We recommended scheduling maintenance services at least twice per year for your landscape lighting. Additionally, we offer discounts on parts and maintenance when you sign up for the bi-annual maintenance agreement.
Timer adjustments, light straightening, and fixture cleaning: If you notice a few of your lights are leaning to one side or have fallen over, our technicians will straighten them. In addition, they will adjust timers so your lights operate on schedule and clean fixtures to ensure they shine bright.
Clean and adjust lenses: It is common for dirt or debris to accumulate on the lenses since they are always outdoors. When too much dirt collects on the lenses, it can affect the brightness of your lighting fixtures. We will clean the lenses and ensure they are free of obstructions.
Check and verify voltage perimeters of all lights: Our technicians will check for the correct voltage and ensure that transformers are outputting the correct voltage. This ensures that you save money on energy bills while keeping your landscape bright and inviting.
System adjustments for Daylight Savings Time: We can also adjust timers for Daylight Savings Time, as needed. Whether it's time to spring forward or fall back, we will make sure your lights always operate on time.
LED Landscape Lights
If you don't already have LED bulbs, upgrading from halogen to LED lights is worth it. Our LED bulbs come with a 5-year warranty, are energy efficient, and have a longer lifespan. These lights use up to 70% less energy, saving you a lot of money on energy bills. Additionally, our LED lighting systems have Wifi and Bluetooth-enabled timers that you can adjust from your smartphone!
Benefits of Maintaining Your Landscape Lighting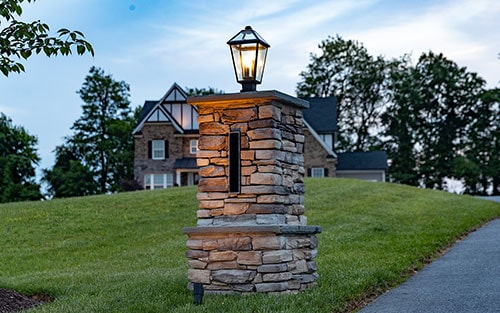 Improves Safety
The exterior of your home is full of potential dangers, like stairs, drop-offs, and uneven walkways. Lighting near those hazards makes them visible to prevent a fall or other injury. Illuminating your driveway, walkways, and house numbers allows visitors to safely and easily find your home.
Increased Security
Landscape lighting makes your house less likely to be a target for vandalism or burglary. A criminal won't be able to approach your home as easily in a landscape with a well-lit exterior. Illuminating entrance points, like doors and windows, make it difficult for a potential burglar to break in unnoticed. When choosing where to place landscape lighting for security, consider the darkest areas of the yard that you want to secure.
Boosts Curb Appeal
The obvious benefit of landscape lighting is enhancing your home's curb appeal. When positioned properly, landscape lights make architectural features pop. You can shine lights on your favorite plants to make the most of your landscaping at all times of night and day.
Learn more about our Outdoor Lighting Design and Install Services