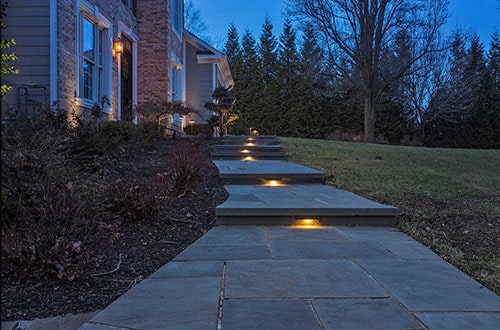 Have you considered installing lighting to enhance the front area of your home? It is good to have an illuminated path to your front door when you get home at night. Walkway and driveway lighting have numerous benefits. Well-lit driveways dissuade thieves, improve safety for residents, and enhance the beauty of the property. Aqua-Bright offers custom lighting and design solutions for your driveway or entryway.
Safe & Secure
Lighting the front of your property eliminates the dark areas for better safety and security. Would-be thieves are less likely to approach a house with lights around the exterior, thus improving safety in hazardous areas. By adding lighting along your driveway or walkways, you can prevent injuries and accidents and create a safe environment around your home. We provide outdoor landscape lighting installation for Howard County, Carroll County, Montgomery County, Anne Arundel County, Greater Washington DC Metro, and Northern Virginia.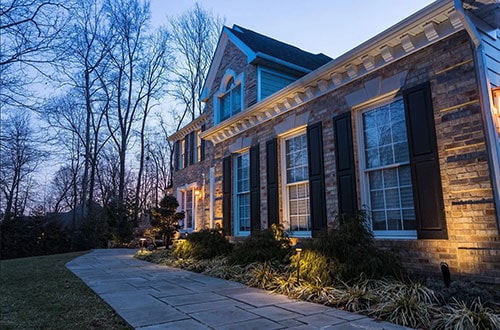 Pathway Lighting
At Aqua-Bright, we use various lighting configurations to best compliment our customers' landscapes. If you need to illuminate a large area, we will use a brighter light, or multiple lights, or vice versa for a smaller space. We often use a low-level, energy-compliant lighting system for walkways to provide a soft, even glow. It looks amazing, but it helps keep everyone safe while walking through the property.
Trust Aqua-Bright with Your Driveway Lighting
Our experienced technicians will assess your landscape to determine the best lighting solution to suit your needs, such as the placement and type of lights. It is a minimally invasive process, and we can usually install a typical lighting system in a day. You won't even know we're there!
All of our lighting systems come with timers that are easy to use. You can set up the system to operate on your schedule and go about your day. Some designs allow you to connect through your smartphone with a free app that controls the lights no matter your location. If your lighting system ever malfunctions, don't hesitate to call us for excellent repair services. We offer various maintenance agreements to fit your needs.
Learn more about our Outdoor Lighting Installation and Maintenance