At Aqua-Bright, we provide multiple levels of service agreements for irrigation maintenance. We service all brands, manufacturers, and system types, such as Hunter, Rainbird, and Toro. Once our teams finish an irrigation system install, we teach all homeowners proper operation. We offer customized plans to keep your systems operating perfectly for years, no matter the season, for a more in-depth system refresh, care, and maintenance. Some examples of our customized maintenance plans include:
Spring season system refresh
Periodic inspection during the growing season
System winterization
Field zone adjustments to ensure proper operation
System battery health
Rain sensor operation testing and verification
Mainline, heads, and valves inspection and adjustments to ensure proper operation and water coverage
Why You Should Trust Us to Maintain Your Landscape Irrigation System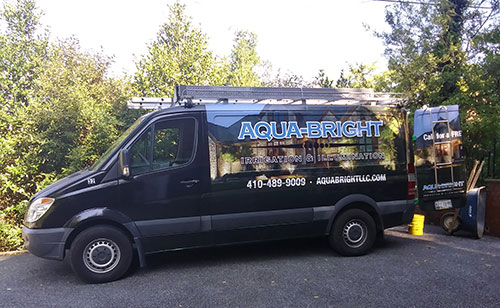 Highly-Trained Technicians
Our systems are designed to automatically work at the best times of the year, utilizing an ideal amount of water without waste. They are easy to use and operate, and we offer a 7-year warranty on all installations. All of our technicians are trained and highly skilled. Our vans are fully stocked with the necessary equipment, so our technicians can repair any issues on site. They can also make suggestions based on your plant growth and soil health.
Easy to Monitor
The irrigation controllers are Wifi and Bluetooth enabled so that homeowners can monitor their irrigation systems from their phones. We can also monitor the systems for our customers right from our office. This ensures your irrigation system is always functioning correctly and there are no issues. The system tracks weather, and we monitor the controller for proper operation, which is incredibly convenient if you're on vacation or always on the go.
Landscape Irrigation is Good for the Environment
An irrigation system puts out the optimal amount of water, so your plants, shrubs, and grass are healthier. And since the water output is scheduled based on the season and weather conditions, it significantly reduces the amount of water wasted. No longer will you have to waste your time and money hand-watering your lawn.
This constant care for your system will ensure that the system remains operating as efficiently as possible throughout the year.
Learn more about our Sprinkler and Irrigation System Installation and Design Services