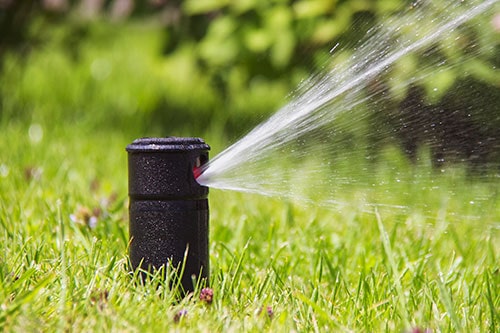 When you have your commercial sprinkler system installed by a professional, you will likely need to start up your system each spring. A spring start-up of your commercial lawn sprinkler system will uncover any problems that might have developed over the winter and get your sprinklers into good working order. You can expect a thorough inspection and adjustment of your lawn sprinkler system each spring.
Clean Sprinkler Heads
When overgrown grass or other debris blocks the sprinkler heads, they won't be able to water your lawn correctly. Our professionals clear away debris and clean off the heads to ensure they function as they should. Keeping sprinkler heads clean expands their life by stopping the seals from wearing out prematurely.
Check for Leaks
We will start up your commercial irrigation system and test for leaks at the beginning of the season. Leaks usually originate from a broken sprinkler head or cracked water line. One leaky sprinkler head can waste gallons of water and leave you with a high water bill. Catching these leaks early can save your lawn – and your wallet!
Make Necessary Adjustments
Spring start-ups are essential for making any adjustments to the irrigation system. When you call Aqua-Bright for maintenance, we will perform zone adjustments, like inspecting the mainline and sprinkler heads, testing rain sensors, and programming controllers. These adjustments ensure your irrigation system will work perfectly throughout the year.
Hire the Professionals at Aqua-Bright Today
For over ten years, we have been working with business owners in Howard County, Carroll County, Montgomery County, Anne Arundel County, Greater Washington DC Metro, and Northern Virginia areas. We have experience working with property owners and management companies, so we understand the nuances of working with commercial businesses. Our team provides professional Irrigation Systems and Maintenance Services. For more information, contact us today.