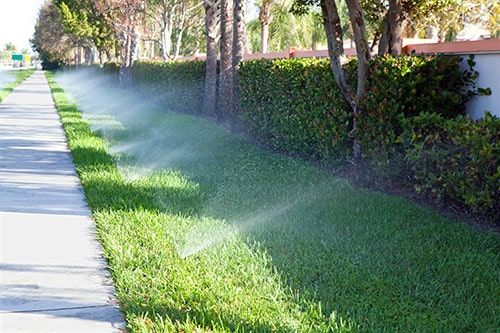 Aqua-Bright's underground irrigation systems do the work for you and will be there when you can't be. We offer professional and customized lawn irrigation systems for businesses in the following areas:
Howard County
Carroll County
Montgomery County
Anne Arundel County
Greater Washington DC Metro
Northern Virginia
We design all of our systems using Hunter Industries irrigation products. Hunter Industries manufacture high-quality and efficient systems to grow healthy, sustainable landscapes while using less water. Our irrigation systems are designed to adjust to weather conditions automatically, so they work at the best times of the year, without water waste. They are easy to use and operate, and we offer a 7-year warranty on all installations that covers parts and labor.
Custom Irrigation Systems for Your Business
Our professional designers will evaluate your property to determine the optimal irrigation setup for you. They will work to accommodate different sun exposure areas, plants, and trees and develop custom watering schedules for your landscape. You can rest assured that your irrigation system is completely customized to your lawn's needs. The irrigation controller is coordinated to your specific schedule. No longer will you have to waste precious time by hand-watering. Once the irrigation system is installed, we will teach you how to use everything to avoid any unexpected issues.
Maintenance Services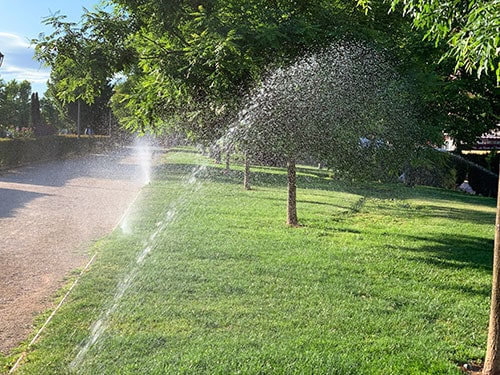 In addition to offering proper instruction and know-how when we install an irrigation system at our client's business, we offer single-service and seasonal service plans for all of our custom-built systems. If you have a system installed by someone else, we can also provide full service and maintenance plans. Our maintenance plans include:
Spring season system refresh
Periodic inspection throughout the growing season
Winterization for the entire system
Field zone adjustments and ensuring proper operation
System battery health
Rain sensor operation testing and verification