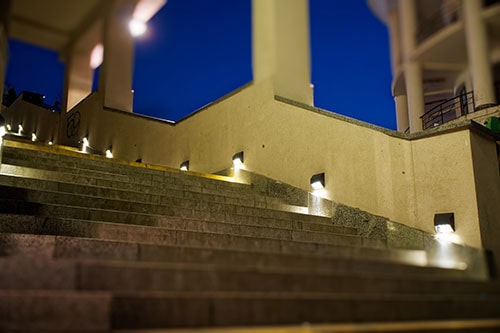 Aqua-Bright offers professional, customized outdoor landscape lighting for your business or commercial property. Our low-voltage, easy-to-use LED lighting systems use less power than traditional lights. You may even see a decrease in electric bills when transitioning to one of our outdoor lighting systems. Whether you want to illuminate dark areas around your entrance or accent your landscape features, our team can customize an easy-to-use system specific to your needs. We offer a variety of custom lighting systems that we install for:
Front Walkways and Paths
Entryways, Gates
Landscaping, Trees, Plant Beds
Front Porches and Steps
Swimming Pools, Pool Houses
We Design Landscape Lighting for Businesses
Outdoor landscape lighting can be one of the best investments you can make for your business's exterior. At Aqua-Bright, we offer custom lighting and design solutions for your landscaping and outdoor spaces. We also provide repair services to help maintain your landscape lighting, such as a bulb replacement or system refresh, to a full system control check or upgrade. We can install any outdoor lighting brand based on your building's architecture. We can even design beautiful holiday displays to decorate your business.
Our technicians are very easy to work with and have experience working with property owners and management companies. Additional maintenance services are available, and our professionally-trained service technicians complete everything. This constant care for your system will ensure that the system remains operating as efficiently as possible throughout the year.
Learn more about our Lighting Installation and Maintenance Services