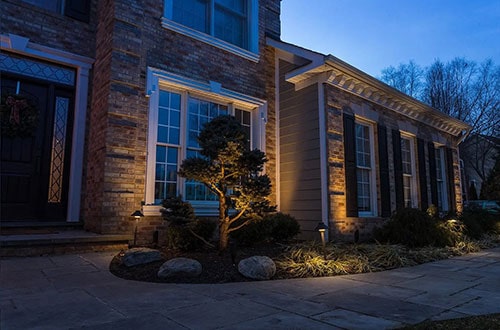 Our custom lighting and design solutions are excellent for your landscaping and outdoor living spaces. All of our equipment is high quality, warrantied, and installed by our in-house licensed professionals. We offer LED landscape lighting retrofits that can be installed for:
Front Walkways and Paths
Entryways, Gates
Landscaping, Trees, Plant Beds
Front Porches and Steps
Driveways
Patios, Decks
Swimming Pools, Pool Houses
Fireplaces, Fire Pits
What are LED Landscape Lights?
LED stands for light-emitting diode. LEDs are one of the most energy-efficient lighting technologies on the market. LED bulbs are more durable, long-lasting, and offer a better quality of light than traditional types of lighting. LED lights are very energy efficient as they use less electricity than CFL bulbs, and they last upwards of 50,000 hours.
LED Landscape Lighting Retrofit
At Aqua-Bright, we offer a 7-year warranty on LED lighting installation and a 5-year warranty on retrofits. We can retrofit any existing lighting system with LED bulbs, no matter the brand. Customers can also opt for color-changing lights to add some extra flair to their home's exterior.
When you want to upgrade your landscape lighting, one of our skilled designers will come out to evaluate your current system and suggest changes to the existing system, such as a retrofit. For brand new LED installation, we only use high-quality FX Luminaire products. Your landscape lighting designer will determine the most cost-effective solution for your property and budget.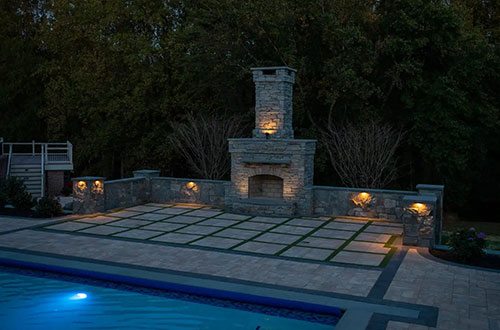 Benefits of LED Landscape Lighting
Installing LED lights is a great way to enhance your outdoor living spaces and protect your property at the same time. Some benefits of LED lighting include:
Energy-efficient: LED lights use much less energy than CFL bulbs and can reduce energy bills and carbon emissions.
Durable: LEDs are not as easily broken as other bulbs, which is important in outdoor areas where there is a lot of foot traffic.
Low-maintenance: LEDs don't need to be replaced as often as traditional bulbs, so you won't have to worry about inspecting your entire landscape to replace a burnt-out bulb.