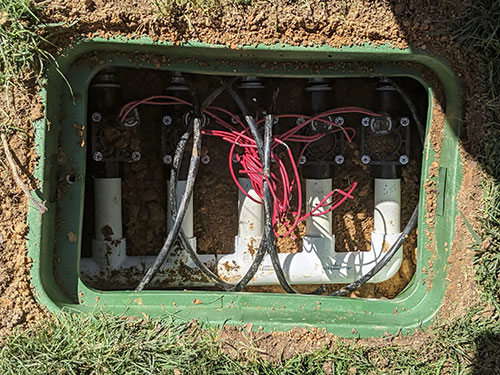 Winterization is vital for keeping your irrigation system safe during the cold months. When not appropriately prepared for the cold winter, the icy weather can seriously damage your lawn sprinkler system. Water left in the system can cause your pipes, sprinkler heads, and manifold to crack and burst, resulting in expensive repairs and replacement. At Aqua-Bright, we have experience installing, maintaining, and winterizing commercial sprinkler systems.
Understanding the Winterization Process
We provide winterization services as part of our irrigation maintenance arrangements. First, we will purge the pipes of water to prevent moisture from freezing inside the lines, which can cause cracks and fractures.
We will then ensure the backflow preventer is winterized and stored correctly. The backflow preventer stops contaminated water from flowing backward into your drinking water. It's essential to prepare this device for winter because a failure in the system can be hazardous to your resident's health. Lastly, we will make sure the system controller is turned off, so it is not wasting energy during the winter months.
Call Aqua-Bright for Lawn Sprinkler Winterization
A properly winterized sprinkler system will ensure its longevity and keep your landscape healthy throughout the year. Allowing water to sit in the pipes over the winter can lead to costly repairs and time spent away from running your business. We provide yearly maintenance plans that include winterization services for commercial lawn sprinkler systems. Our constant care for your system will ensure that it operates as efficiently as possible throughout the year.
Learn more about our Sprinkler and Irrigation System Maintenance Services