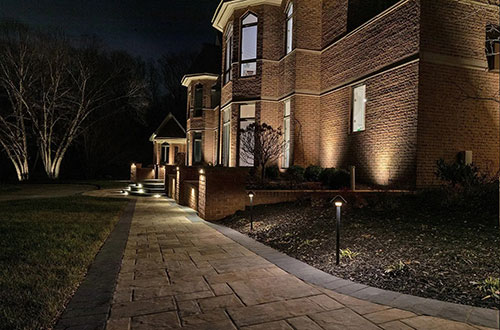 Outdoor landscape lighting is one of the best investments you can make for your home's exterior. Aqua-Bright offers a range of different landscape lighting options to our clients. We can customize any custom lighting and landscape design for your outdoor living spaces. Clients can choose from various types of lighting fixtures and bulbs, such as low voltage lighting.
What is Low Voltage Lighting?
Low voltage lighting was originally created to facilitate safe outdoor landscape lighting. This technology works by using an LED driver or transformer to reduce the voltage to 24v, 12v, or lower. The driver can be built into the light fitting itself or installed separately, but its presence is essential for the operation of the light. At Aqua-Bright, we specialize in installing and servicing FX Luminaire brand low voltage lighting. Our lighting systems come in various designs based on your home's exterior style. In fact, these systems can be installed around pools, walkways, decks, trees, and shrubs.
About FX Luminaire
FX Luminaire offers a variety of low-voltage lighting transformers with different levels of control to accommodate projects of all sizes. These transformers provide basic, intermediate, and advanced control capabilities depending on your needs. All devices meet UL standards and requirements and come with a 10-year warranty. There is no better choice than FX Luminaire, with a low-voltage lighting control solution to suit every homeowner's needs.
Benefits of Low Voltage Lighting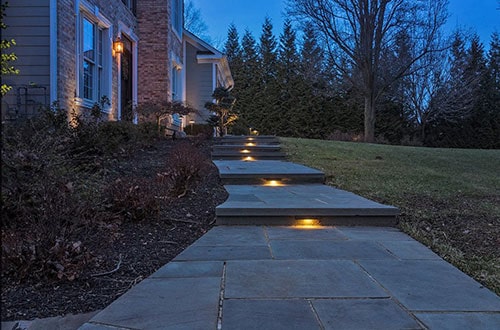 There are many environmental and economic benefits of low voltage landscape lighting. It can be used in both indoor and outdoor spaces. Some great benefits of low voltage lighting include:
Safety
One of the most significant benefits of low voltage lighting is that it is much safer than traditional lighting. A system with 12v of power ensures that you and your guests are protected from shocks if they mistakenly touch something. They also provide a safer option for outdoor lighting that won't pose a hazard when exposed to rain and moisture.
Longer Lifespan
Now that LED is becoming a more popular form of low voltage lighting, the combination of the lower wattage and LED technology creates longer-lasting bulbs when compared with incandescent and halogen bulbs. LEDs are also more energy-efficient, requiring less energy to provide the same levels of light and requiring less frequent replacing.
Installation & Maintenance
When you schedule an installation, one of our experienced technicians will come to your home and evaluate the property to determine the best landscape lighting solution. We offer a 7-year warranty for the installation of FXL systems. However, we can install and service any brand of landscape lighting. We will help you find the most cost-effective solution that makes sense for your needs. All of our systems are built with easy-to-use timers so you can set up the system to operate whenever preferred and go about your day. Some systems also feature smartphone control, with a free app, allowing you to control the lights no matter your location. Once your system is installed, you can depend on Aqua-Bright to maintain your landscape lighting for years to come. We offer customized maintenance plans to meet the needs of our customers. Some examples include:
Bi-Annual site visits
Adjustments of timers, straighten lights, fixture cleaning
Clean and adjust lenses
Check and verify voltage perimeters of all lights