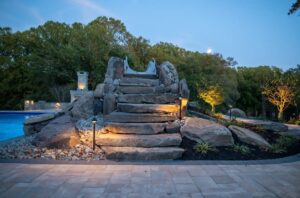 LED retrofitting has gained popularity for both home and business owners alike. An LED retrofit converts an existing lighting fixture into an LED lighting fixture. Continue reading to learn more about the benefits of an LED retrofit for your landscape lighting. 
Save On Energy Costs
Upgrading to LED lighting offers significantly reduced energy consumption compared to traditional and fluorescent lighting. According to research, LED lighting can save as much as 80 percent on energy costs over a year.
Decreased Maintenance Costs
The significantly lower maintenance expenses of LED lighting fixtures are an additional advantage of LED retrofitting. Traditional lighting requires a lot of maintenance and expensive replacements. LED lighting has an immensely longer lifespan, and the need for repairs is minimal. Making the conversion to LED lighting is a smart move for your finances, as the savings associated with expenditures can add up to a sizable sum over time. With our FX LED Bulbs, maintenance costs are even lessened as our product comes with a five-year warranty.
Improved Lighting Quality
The improved quality of the light produced by LED lighting is one of the main enhancements that LED retrofitting provides. In addition to enhanced light quality, your landscape's aesthetic appeal will surely improve drastically. 
Environmentally Friendly Lighting 
Incandescent bulbs contain toxic materials, while fluorescent bulbs contain high amounts of mercury. These bulbs also usually have a short lifespan and are not recyclable. Compared to LED lighting, which is not made with toxic materials and is recyclable.
As Always, Don't Hesitate To Contact Aqua-Bright For All Of Your LED Landscape Lighting Needs!
You can trust the Aqua-Bright professionals to design and install your custom lighting design. We service clients throughout several Maryland counties, as well as Washington DC and Northern Virginia. You can read our customer reviews on our site to learn more about how we provide excellent results. For a consultation and to hear what we can do for you, give us a call at (410) 489-9009 or submit our Quick Contact Form online. You can also follow us on Facebook, Twitter, and LinkedIn to receive the latest updates on our lighting services and projects.