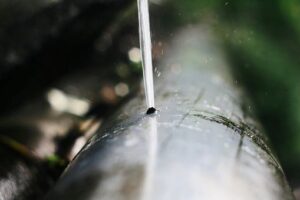 Irrigation systems are essential in managing your lawn. If you have a sprinkler system, leaks can occur within it. The following are some of the most prevalent leaks in an irrigation system. 
A Leaky Sprinkler Head
This is the most common leak and one of the easiest to discover. More often than not, the leak is caused by damage to the sprinkler head. Another indicator of a defective sprinkler head is the accumulation of occasional water spurts or puddles in the surrounding area. A clogged sprinkler head could also be the source of a problem.
A Line Is Broken In Your Sprinkler System 
A broken line in your irrigation system can occur anywhere from the main line to the lateral line. If you see water in your yard while your irrigation system is turned off, the problem could be with your main line. If you are uncertain where the leak comes from, you can always rely on Aqua-Bright for a quick diagnosis and repair.
A Leaky Valve In Your Irrigation System 
Another common issue that can contribute to a leaky system is valve leaks. A valve leak can occur for a variety of reasons. You may have a damaged seal or too much pressure in your system. Valves in your sprinkler system can also become clogged with sediment over time.
As Always, Don't Hesitate To Contact Aqua-Bright For All Of Your Irrigation System Needs!
You can trust the Aqua-Bright professionals to design and install your custom lighting design. We service clients throughout several Maryland counties, as well as Washington DC and Northern Virginia. You can read our customer reviews on our site to learn more about how we provide excellent results. For a consultation and to hear what we can do for you, give us a call at (410) 489-9009 or submit our Quick Contact Form online. You can also follow us on Facebook, Twitter, and LinkedIn to receive the latest updates on our lighting services and projects.