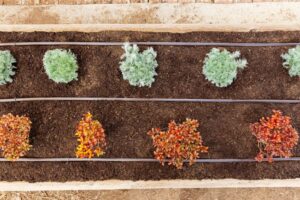 A micro-drip irrigation system ensures water is delivered evenly throughout your landscape over time. As a business owner, you don't have the time to water around your business during the summer months. That's why you should invest in one of these systems from Aqua-Bright. Below are some of the many benefits that micro-drip irrigation systems provide commercial businesses. 
Micro-Drip Systems Are Versatile 
These systems are versatile and are used in various settings. They suit existing and new landscapes and can function effectively on a landscape with hills or flat terrain. Micro-drip systems can be used in virtually any setting, increasing their versatility. 
Effective Watering
Drip irrigation is widely regarded as the most efficient method of watering plants today. This method ensures that water is applied precisely where needed, preventing overwatering and less weeding. Micro-drip systems also conserve water, ultimately saving business owners money in the long run. 
Save Time Caring For Your Landscape
Micro-drip systems eliminate hand-watering and delivers water directly to your roots. This method ensures your landscape receives the proper moisture for daily consumption. Micro-drip systems are an eco-friendly choice for anyone looking to conserve resources.
Save Money
Drip systems have the advantage of watering plants directly at the roots. As a result, they consume 30 to 50 percent less water than traditional watering methods. These irrigation systems also have an excellent return on investment, as you can expect to recoup your expenses in less than two seasons. Ready to invest in a micro-drip irrigation system for your business? Then don't hesitate to contact the team at Aqua-Bright today!
As Always, Don't Hesitate To Contact Aqua-Bright For All Of Your Drip Irrigation System Needs!
You can trust the Aqua-Bright professionals to design and install your custom lighting design. We service clients throughout several Maryland counties, as well as Washington DC and Northern Virginia. You can read our customer reviews on our site to learn more about how we provide excellent results. For a consultation and to hear what we can do for you, give us a call at (410) 489-9009 or submit our Quick Contact Form online. You can also follow us on Facebook, Twitter, and LinkedIn to receive the latest updates on our lighting services and projects.