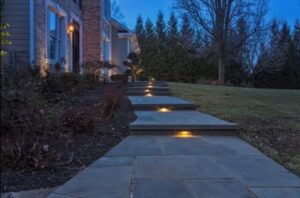 Your surrounding landscape isn't complete until outdoor path lighting is in place. If you haven't explored outdoor lighting options for your business, you have come to the right place. Continue reading to learn more about how path lighting and how the experienced team at Aqua Bright can help enhance your property.
Path Lighting Highlights Landscape Features
Landscape features generate a wow factor during the day, and they should also be visible at night. Outdoor path lighting is a terrific way to make elements such as flower beds, bushes, and trees look as beautiful during the day as at night. Path lighting is an optimal solution if your commercial landscape is rich with features such as these.
Enhance The Curb Appeal Of Your Business
When was the last time you observed the curb appeal of your property? Paying more attention to the appearance of your building will assist you in seeing the value of outdoor path lighting. Most business owners only worry about curb appeal when they want to sell their property, but prioritizing it is one of the many ways you can enhance your business.
Maximize Safety Around Your Property
Outdoor lighting is effective because it provides substantial benefits in terms of safety and security. This is especially true if you operate a business at night or early morning. A well-lit pathway reduces the possibility of your employees or visitors tripping when approaching or leaving your building. Unexpected barriers on your property can range, so having outdoor path lighting is a practical way to prioritize safety.
Path Lighting Reduces The Risk Of Crime
Outdoor path lighting can illuminate your business, making it appear risky for anyone attempting to break in. Many burglars will avoid a well-lit property since people can easily see them come and leave.
As Always, Don't Hesitate To Contact Aqua-Bright For All Of Your Commercial Outdoor Lighting Needs!
You can trust the professionals at Aqua-Bright to design and install your outdoor lighting systems. We service clients throughout several Maryland counties, as well as Washington DC and Northern Virginia. You can read our customer reviews on our site to learn more about how we provide excellent results. For a consultation and to hear what we can do for you, give us a call at (410) 489-9009 or submit our Quick Contact Form online. You can also follow us on Facebook, Twitter, and LinkedIn to receive the latest updates on our outdoor lighting services and projects.