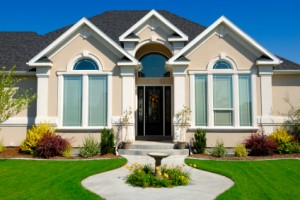 Keeping your grass green and lush all summer can be a tall order. You can't control the weather or how your grass grows, but what you can control is how you use your Maryland irrigation system. Did you know that watering at certain times of day can harm your grass more than help? So can over watering! If you want a great lawn that is the greenest and best in your neighborhood, you need to know how to properly water your Maryland lawn this summer. We've got a few tips to keep your lawn growing in the right direction.
Timing – Believe it or not, when you water your lawn can have a huge effect on how it grows. The best time to water your lawn is early in the morning. You'll avoid water building up and causing mold overnight, but you'll also give the water time to soak down into the soil so that it doesn't just evaporate in the heat of the day.
Type of grass – Last week we gave you a look at the types of grass that grow in Maryland. Most of the Maryland grasses require more water than other typical grasses. For example, tall fescue and Bluegrass require 1 ½ to 2 inches of water per week, compared to other grasses which require about an inch per week. Find out what type of grass you have before you set your irrigation up on a regular schedule.
Use the "tuna-can" method – When you water your lawn, put out a tuna can. After an hour (or whatever pre-determined time you decide on), measure the water in the tuna can to see how much water accumulates in that time period. It'll help you figure out if you need to water for more time or less time so that you aren't over watering or under watering your lawn.
Try an irrigation system – You can set irrigation systems for the proper time of day and to water for as long as you want them to. Plus, you don't have to worry about making sure that your sprinklers reach the right part of your lawn. When we install your sprinkler system, we'll make sure that the water sprays in the proper direction and reaches as much of your lawn as possible.
When you're ready to install an irrigation system to help keep your lawn perfectly green and lush, call Aqua-Bright at 410-489-9009 or contact us on our website. At Aqua-Bright, it's more than just getting the job done, it's getting the job done right. That's why we take our time and pay attention to every last detail. Whether it's installing lawn sprinkler systems, outdoor security lighting, or basement waterproofing, the professionals at Aqua-Bright do the job right. You can also follow us on Facebook, Twitter, LinkedIn, and Google+!
Source: Fairway Lawns