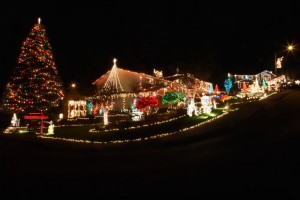 Are you sick of using the same christmas lights as your neighbors? You can make your property stand out by using custom christmas light installations. The wonderful thing about custom holiday lighting is making it fit with your home or office building theme. Even for special events, there is a way for custom christmas light installations to add a little extra sparkle and shine to the holiday season. You can especially stand out when you have professionals install your custom holiday lights as they will put them up and take them down when you are ready. With custom holiday lights you can enjoy your preference of lighting and additional accessories such as pre-lit wreaths and holiday yard decorations like elves and snowmen.
More importantly you will keep yourself out of harms way during the holidays because you won't have to worry about slipping off your ladder, pulling a muscle or eating away your time to put up holiday lights. The professionals will handle your holiday light hangings, layout and everything in between, to make sure you have the professional light installation of your dreams. Not to mention you will save money for holiday shopping because the professional light installation company will use LED lighting to save on your energy bill while creating brother holiday light displays. You can have light installations for the roof, windows, doors, ground lighting, shrubs, walkways and more.
Get creative with your color design schemes to truly get into the spirit of the holidays. You will truly have a picture-perfect holiday scene —  no hassle and no fuss. Never again will you have to stress about finding time to put up your holiday decorations. Here at AquaBright LLC we have you covered so you can lower your risk of injury while enjoying the holidays. If you ready to get started today, we are here for you.
Want To Learn More About Professional Holiday Lighting?
For more information about illumination for your Maryland home this holiday season, call Aqua-Bright today at 410-489-9009 or take a tour of our website. Professional holiday lighting is not just for Christmas anymore and can provide sparkle to any holiday. You can follow Aqua-Bright Irrigation & Illumination on Facebook, Twitter, Google+, and LinkedIn! For examples of our work, check us out on Pinterest, too!