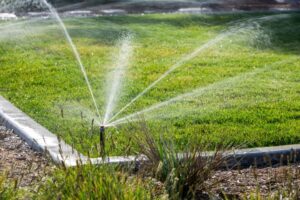 Having a lush green lawn can significantly increase your home's value and add to your home's curb appeal. However, maintaining a healthy lawn requires time, effort, and proper watering. To make sure your landscape stays healthy, consider installing an irrigation system from Aqua-Bright. This system can help care for your lawn's watering needs, even when you're not around to do it yourself. Below are some common signs you might need an irrigation system for your home or business.
Costly Water Bills
The fact is, most people overwater their surrounding landscape with the best of intentions, which ends up leading to skyrocketing water bills every summer. An irrigation system can help you conserve water and monitor water usage.
You Don't Have The Time To Water Your Lawn
Watering in the early morning or late evening is recommended for optimal plant and grass growth. This allows the water to seep into the soil and provide nutrients to the roots. However, this may require waking up early or adjusting evening plans to tend to your lawn. Fortunately, you can program an irrigation system to water your lawn even when you're away, saving you time and effort watering your lawn.
You Don't Have The Equipment 
Many homeowners rely on watering cans, garden hoses, and store-bought sprinklers to water their gardens. This can be a tedious task and may not provide adequate coverage. However, with an irrigation system, your property can be designed to receive the exact amount of water it requires at the optimal time. This ensures that each area of your garden gets the necessary moisture. Our systems are easy to use and offer a seven-year installation warranty. Also, we offer single and seasonal full-service plans for our irrigation systems.
An Unsightly Landscape
A healthy lawn should grow consistently and evenly. If you notice areas on your grass that aren't growing or have brown patches, it could be a warning sign that your lawn isn't getting enough water. An irrigation system can guarantee that all parts of your yard receive the same moisture, promoting even growth and preventing any dry spots. Also, a well-watered lawn should have moist soil. To maintain the soil's moisture levels, rely on Aqua-Bright technicians to install an irrigation system that suits your needs. 
As Always, Don't Hesitate To Contact Aqua-Bright For All Of Your Irrigation System Needs!
You can trust the professionals at Aqua-Bright to design and install your outdoor lighting systems. We service clients throughout several Maryland counties, as well as Washington DC and Northern Virginia. You can read our customer reviews on our site to learn more about how we provide excellent results. For a consultation and to hear what we can do for you, give us a call at (410) 489-9009 or submit our Quick Contact Form online. You can also follow us on Facebook, Twitter, and LinkedIn to receive the latest updates on our outdoor lighting services and projects.