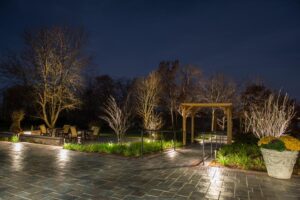 Your garden contributes to the overall appeal of your property by being a component of your home's outside living area. By using outdoor lighting in your garden, you will improve the aesthetics of the space, which will elevate your ambiance and make your house feel more inviting. Keep reading to learn more about the many benefits of outdoor lighting for your garden. 
Lighting for Trees
Trees enhance the appearance of your garden and give it a more natural feel. Adding lights to your trees makes the outdoor area more attractive, especially for social occasions.
Uplighting Techniques 
Since no two plants are the same, uplighting requires some imagination. LED bulbs work great for illuminating trees or bushes from the ground up. These bulbs assist by highlighting the plant's distinctive shape and draw attention to its features. 
Moonlighting
Moonlighting on trees produces a stunning glow that resembles the moon's light. This method draws attention to the neighboring trees, flowers, and decorative plants. Make careful to put the light fixtures high in the tree and direct the light downward to improve your moonlighting technique. 
Downlighting
In any outdoor area, downlighting trees can produce a breathtaking visual effect. There are several uses for this method of outdoor lighting. You can use it, for instance, to showcase a flowerbed or to draw attention to unique or beloved plants in your garden. Downlighting is an excellent option to illuminate your patio, seating spaces, or surrounding paths. It can also be an excellent option for lighting dim areas to reduce tripping hazards and deter trespassers from entering your property. Ensure the light fixtures are hung high enough to guarantee this method is effective. This makes it easier to create the ideal circle of light to highlight the desired locations.
Accent Lighting
This lighting approach can highlight specific plants or objects in your garden or create a focal point. The light they shed on everything around them makes the room more open and welcoming. They are also excellent for viewing at night. Due to its ability to produce a dramatic impression, accent lighting is famous for illuminating sculptures and fountains. Use accent lighting to draw attention to the garden elements you value! 
As Always, Don't Hesitate To Contact Aqua-Bright For All Of Your Outdoor Garden Lighting Needs!
You can trust the professionals at Aqua-Bright to design and install your outdoor lighting systems. We service clients throughout several Maryland counties, as well as Washington DC and Northern Virginia. You can read our customer reviews on our site to learn more about how we provide excellent results. For a consultation and to hear what we can do for you, give us a call at (410) 489-9009 or submit our Quick Contact Form online. You can also follow us on Facebook, Twitter, and LinkedIn to receive the latest updates on our outdoor lighting services and projects.