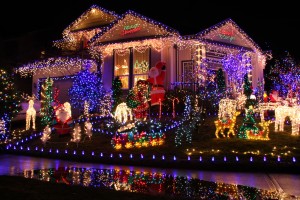 If you're considering purchasing outdoor lighting for the holidays, or anything else it's important to remember that, as with the installation of any electrical fixture, safety is the highest priority, and its importance is multiplied exponentially by the dangers the outdoors can pose. Continuing with our series from last week, Aqua Bright, LLC is here with more tips on installing safe outdoor lighting in Baltimore. Be sure to read up on last week's topics and then get ready to learn about:
Using Outdoor Rated Extension Cords
As with bulbs and fixtures it's important that you bring power to your Baltimore outdoor lighting equipment via outdoor rated extension cords. Indoor extension cords are light, flexible, and definitely not designed for getting wet. Keep them inside and spend the money on outdoor extension cords for your outdoor lighting fixtures.
Keep Flammable Materials Away
When setting up an outdoor lighting fixture, particularly in drier winter months, or during especially hot weather, it's vital to keep them away from flammable materials like hay, straw, dried leaves, or grass. This doesn't mean you can' use lights on your lawn, but they must be sturdy, set up or affixed properly, and only under operation when someone is at home.
Install GCFI Protection
A GCFI, or Ground Fault Circuit Interrupter, is perhaps the single greatest invention that electrical safety has seen in the past 50 years. A GCFI disconnects a circuit if it detects that there is an electrical current imbalance between the energized conductor and the return neutral conductor, protecting people from lethal electrocution. Make sure your fixture has weatherized GCFI protection, and if it doesn't, be sure to install a weather resistant receptacle.
Want Safe, Professionally Installed Outdoor Lighting?
Interested in increasing your Baltimore property value, appeal, and usability during the darker months? We want to help you save and get a gorgeous product! At Aqua-Bright, it's more than just getting the job done, it's getting the job done right, whether it's installing lawn sprinkler systems, outdoor security lighting, or basement waterproofing. Kevin wouldn't have it any other way. Call Aqua-Bright today at 410-489-9009, if you're in the Baltimore area, stop in and visit us, or take a tour through our website to get started with your outdoor lighting system.
Check Back Next Week For More on Safe Outdoor Lighting in Baltimore
Illuminate yourself and follow Aqua-Bright Irrigation & Illumination on Facebook, Twitter, Google+, and LinkedIn! For examples of our work, check us out on Pinterest, too.