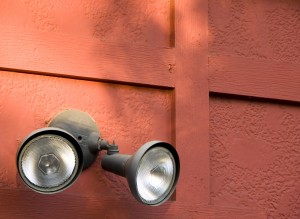 Adding security lighting to their property is one of the many ways Baltimore homeowners can increase their home security. But what light fixtures do you choose? Outdoor security lighting should fulfill a few basic requirements no matter what: It should be bright, cover a large area, and activate when it's needed. However, there's a lot more to security lighting than these simple requirements. Aqua-Bright is here with the information you need to select security lighting that works for your Baltimore home,
Lights for The Right Place
Not every security lighting instrument is made for the same exact purpose. When selecting security lighting for your Baltimore home make sure you have a mixture of high mounted floodlights for broad illumination and other smaller lights to illuminate walkways or entrances.
Outdoor Rated Fixtures
The security lighting fixtures and light bulbs you use must be rated to withstand the outdoor weather. Lighting instruments for use under the covering of a porch must be rated for dampness, while bulbs and fixtures for unprotected areas like your home exterior must be completely weatherproof.
Activation
Another important consideration when selecting security lighting for your Baltimore home is how you want those lights to be activated. Standard manual switches are often the most inexpensive, but must be turned on and off by hand every day. Timed security lights can turn your lights on and off at the same time every day, which can be useful if you're away and photocells can be used to detect darkness and operate you lights accordingly. Motion detectors can be attached to security lighting to turn on when motion is detected in your yard.
Many Baltimore homeowners combine the previous two systems so that their security lighting remains inactive during the day, and only turns on when both the photocells detect darkness and the motion sensor detects movement.
Interested In Top-Quality Security Lighting?
Security lighting doesn't need to be pricy or confusing. At Aqua-Bright, we can help you figure out what type of outdoor lighting is right for you and your home, helping you sleep better at night, knowing that your security lighting will deter criminals and help keep your home safe. To talk to someone about security lighting in Baltimore, Maryland or the surrounding areas, call Aqua-Bright today at 410-489-9009 or take a tour through our website.
Illuminate yourself and follow Aqua-Bright Irrigation & Illumination on Facebook, Twitter, Google+, and LinkedIn! For examples of our work, check us out on Pinterest, too.