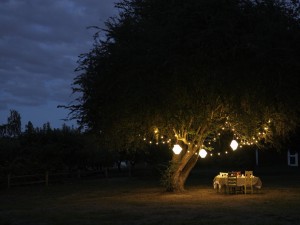 The Holidays are a great time for picking out outdoor lighting for your Baltimore home, or for purchasing special installations for holidays like Halloween and Christmas. As with the installation of any electrical fixture, safety is the highest priority, and its importance is multiplied exponentially by the dangers the outdoors can pose. That's why Aqua Bright, LLC is here with a multi-part series on installing safe outdoor lighting in Baltimore.
Purchase Outdoor Rated Fixtures & Bulbs
Not all lighting is created equal. If you're installing any outdoor lighting fixtures and bulbs, it's important that they were specially built for that purpose. Make sure to check the bulbs and equipment you're using to see if they are outdoor rated, otherwise they may not be safe under damp conditions. Not only do outdoor rated bulbs and fixtures pay off in terms of keeping you safe, but they're also more economical, since improperly rated bulbs will require frequent replacement.
Use Correctly Lamped Bulbs
When looking for safe outdoor lighting for your Baltimore home it's crucial to avoid installing bulbs with a higher wattage than the fixture is rated for. Otherwise the fixture's wiring could overheat and damage the internal insulation. Be sure to pay attention to the actual wattage of the bulb and not the "incandescent equivalent" (the effective output of the bulb) which is often much higher than the bulbs real wattage.
Want Safe, Professionally Installed Outdoor Lighting?
Interested in increasing your Baltimore property value, appeal, and usability during the darker months? We want to help you save and get a gorgeous product! At Aqua-Bright, it's more than just getting the job done, it's getting the job done right. That's why we take our time and pay attention to every last detail. Whether it's installing lawn sprinkler systems, outdoor security lighting, or basement waterproofing, the professionals at Aqua-Bright do the job right. Kevin wouldn't have it any other way. Call Aqua-Bright today at 410-489-9009, if you're in the Baltimore area, stop in and visit us, or take a tour through our website to get started with your outdoor lighting system.
Check Back Next Week For More on Safe Outdoor Lighting in Baltimore
Illuminate yourself and follow Aqua-Bright Irrigation & Illumination on Facebook, Twitter, Google+, and LinkedIn! For examples of our work, check us out on Pinterest, too.
Source: About.com