With fall approaching and the daylight hours shrinking, any Baltimore homeowner concerned with their properties appearance and accessibility during the evening will no doubt be wondering: How can I best keep both my home and yard useful and beautiful after dark? Outdoor lighting, though often used exclusively to illuminate a house or pool, can vastly increase the availability of your outdoor space through the fall days and evenings.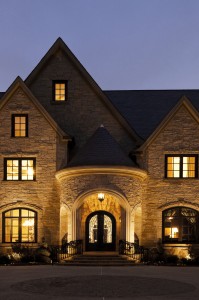 Extending Boundaries
When light is shone on a darkened portion of the yard it extends the perceived boundaries of the house. The more portions of your property that are lit, the more people will find themselves drawn beyond the confines of your walls. This can allow you to craft a striking and distinct nighttime style for your property, accenting specific features you want to help pop against the night sky.
Defining Your Property
Another practical element of fall lighting is the practice of boundary lighting. If you have a fence, row of trees or hedges, any physical representation of where your property ends, you can visually reinforce this boundary with applied outdoor photometrics. Overlapping several lights can allow you to create a wall of light that not only creates a practical visual reference for your property's boundaries, but also gives your land, even in the darker hours, a feeling of self-contained security.
Keep In Mind
When designing an outdoor lighting plan remember to also take into consideration the effects of a fall lighting solution on the interior of the house as well. You may want to consider adding illumination outside of your dining or living room areas, so guests feel free to mingle back and forth between the indoors and outdoors there, allowing them the ability to keep an eye on people, events, or conversations across the boundaries of the house. Conversely, you may want to keep lighting away from bedrooms or your home office to help maintain privacy.
Interested?
Interested in increasing your property value, appeal, and usability during the darker months? We want to help you save and get a gorgeous product! At Aqua-Bright, it's more than just getting the job done, it's getting the job done right. That's why we take our time and pay attention to every last detail. Whether it's installing lawn sprinkler systems, outdoor security lighting, or basement waterproofing, the professionals at Aqua-Bright do the job right. Kevin wouldn't have it any other way. Call Aqua-Bright today at 410-489-9009, if you're in the Baltimore area, stop in and visit us, or take a tour through our website to get started with your outdoor lighting system.
Illuminate yourself and follow Aqua-Bright Irrigation & Illumination on Facebook, Twitter, Google+, and LinkedIn! For examples of our work, check us out on Pinterest, too.
Source: FXLuminaire