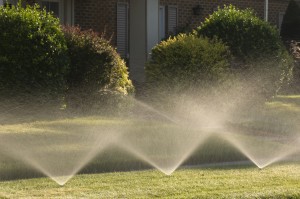 It's that time of year again: time to get your grass green and growing, that is. Sprinkler maintenance should be performed every spring and summer to ensure that your sprinklers are running at peak performance and can handle the hot Maryland summer. Getting your sprinkler system set up and prepared for spring is very important, as is maintaining it in the summer, and preparing it for the cooler months in the fall. This week, though, we're only going to touch on spring and summer; we know that nobody is ready to talk about fall just yet. Make a point to address the items on the checklist below for optimum efficiency:
Spring
Close the manual drains that were opened last fall to get all of the water out. Once you've done this, turn on the main valve to the sprinkler system (do this slowly, though).
Have the main line pressurized by a professional. While this is something that you can DIY, it's always best to have a professional when you're dealing with water pressure. Once you've done this, have your backflow tested by a local professional to make sure it's working properly.
Run your sprinkler system to check for any problems it may have acquired during the winter months. You should make sure there are no leaks, that the spray patterns are working properly, and that they're in the proper places. Have any clogs or spray issues fixed immediately.
Summer
Make sure you're adjusting your sprinklers properly. Even though automatic sprinklers know when to turn on and off and how much water to use, they're not always adjusted for the proper time of year or how much rain you're receiving. If this summer is different from the previous ones, or if there's suddenly a drought in mid-summer, you'll need to make adjustments.
Keep an eye on your sprinkler heads. They can just as easily break in the warm months as in the cold months. Don't allow your sprinklers to go uncared for during the spring and summer.
Sprinkler maintenance is important if you want your lawn to stay evenly watered and well-taken care of. Plus, preventive maintenance can help you save money in the long run; it's easier to fix a problem than it is to replace the whole system. Sprinkler maintenance is one of our specialties and we'd be happy to help you get set for spring and summer.
About Aqua-Bright Irrigation & Illumination in Baltimore
At Aqua-Bright, it is more than just getting the job done, it's getting the job done right. That is why we take our time and pay attention to every detail. Whether it is installing lawn sprinkler systems, outdoor security lighting, or basement waterproofing, the professionals at Aqua-Bright do the job right. We wouldn't have it any other way.
For more information about sprinkler system maintenance in Baltimore, Maryland or the surrounding areas, call Aqua-Bright today at 410-489-9009 or take a tour through our website.
Illuminate yourself and follow Aqua-Bright Irrigation & Illumination on Facebook, Twitter, Google+, and LinkedIn! For examples of our work, check us out on Pinterest, too.
Source: http://www.conserveh2o.org/sprinkler-system-maintenance-tips