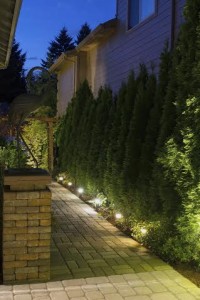 Summer nights are meant for spending outside with family and friends, sitting around a bonfire or enjoying each other's company in the sultry Baltimore summer. Being outside at night can present some problems, though. The obvious issue at hand is that it's dark outside. Choosing exterior lighting that looks good with your home can help you light up the night and spend even more of your summer outdoors; after a winter like the last one we had, the more time you can spend outside getting that winter chill out of your bones, the better. Exterior lighting can help give your backyard a unique glow.
Safety and Security – Dark walkways and patios can be dangerous. It's easy to trip over things and injure yourself or find yourself in a situation with a wild animal that you couldn't see. In general, it's a good idea to illuminate the outdoors. Line your walkways with resilient exterior lights or good a floodlight to really brighten it up. Also, the more well lit your yard is, the safer you'll feel from unwanted intrusion.
Living Space – Don't spend all of your nights indoors. Extend your living space by adding light to your backyard and giving your home that extra boost. With exterior lighting, you can spend more time entertaining family and friends and enjoying all of the benefits that summer has to offer. You'll be able to talk and hang out for longer with good company.
Décor and Curb Appeal – Adding outdoor lighting in a strategic way can add to the ambience of your outdoor living space. You can highlight your favorite parts of your landscaping and make your home glow warmly. If you're in the process of selling, outdoor lighting will give your home a little extra boost of curb appeal. Many people tour houses in the day time but come back at night to see what it looks like in the evening as well. Make sure it's lit up well for all to see.
Your Baltimore backyard doesn't have to be dull anymore. Add some exterior lighting to give it the shine that you know it deserves.
About Aqua-Bright Irrigation & Illumination in Baltimore
At Aqua-Bright, it is more than just getting the job done, it's getting the job done right. That is why we take our time and pay attention to every detail. Whether it is installing lawn sprinkler systems, outdoor security lighting, or basement waterproofing, the professionals at Aqua-Bright do the job right. We wouldn't have it any other way.
For more information about exterior lighting in Baltimore, Maryland or the surrounding areas, call Aqua-Bright today at 410-489-9009 or take a tour through our website.
Illuminate yourself and follow Aqua-Bright Irrigation & Illumination on Facebook, Twitter, Google+, and LinkedIn! For examples of our work, check us out on Pinterest, too.
Source: http://www.redbeacon.com/hg/benefits-functional-outdoor-lighting/