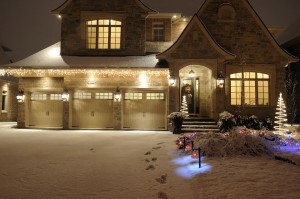 With the snow, bitter winds, and the cold, it can be easy to neglect your outdoor lighting system. You already shovel your driveway, sidewalk, and walkway, and de-ice your car, why would you want to spend anymore time out in the cold? The problem is, winter is when your outdoor lighting system is most vulnerable. The temperature, moisture, and winter activities can cause damage to your outdoor lighting system. And neglecting a little problem will only lead to large problems in the future.
The Temperature
When you think of problems with the temperature in winter, you think of the freezing cold. But the real problems from winter come not just from the freezing cold, but the fluctuation of temperatures. On a Maryland winter day, it's not abnormal for temperatures to plummet below freezing and into the teens, and then rise above freezing in the middle of the day, only to go down again at night. The freezing, thawing, and refreezing of water can cause your outdoor lighting fixtures to shift their focus, move in their place, or even break. Extreme low temperatures can also negatively affect the lives of some bulbs. This is especially the case when they go from being on and hot, to being cold at night.
Winter Activities
Winter activities like snow shoveling, roof raking, and even just playing in the snow can inadvertently cause damage to your outdoor lighting. If you aren't careful with a metal bladed snow shovel you could accidentally strike lights near your driveway, or walkways. If you use a snow shoveling service, you should make sure they know where your lights are, or mark your lights with surveying flags, so they don't accidentally damage them. When raking snow off of your roof, or taking down icicles, you need to be careful of the lights that might be beneath them, or the string lights if you still have them up. Finally, it's easy to damage lighting fixtures, bulbs, and wires, that are buried in the snow if you're carelessly playing. It's important that you mark or unbury your lights, otherwise a child might accidentally hurt themselves playing in the snow.
Moisture
The moisture of winter, from snow, ice, sleet and slush are no good for your outdoor lighting either. Your lighting, wiring, and box should all be watertight, however, with the freezing and thawing, and various winter activities may have damaged their waterproofing. It's important to check, and make sure everything's water tight. Melting can frequently cause your GFCI outlet to trip. If it does you can push the "reset" button to restart it. If it does not work after pushing the reset button, you should call your outdoor lighting specialist.
Need Help with Winter Maintenance for Outdoor Lighting?
Call Aqua-Bright to consult an outdoor lighting specialist about winter maintenance for outdoor lighting. Call Aqua-Bright today at 410-489-9009 or take a tour through our website.
Illuminate yourself and follow Aqua-Bright Irrigation &Illumination on Facebook, Twitter, Google+, and LinkedIn! For examples of our work check us out on Pinterest too