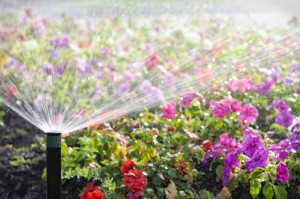 Keeping your lawn and plants healthy and vigorous during the summer is a challenge. You have to spend the time watering the lawn – a good soaking takes two hours – and deal with tangled hoses and broken nozzles. Underground irrigation is Aqua Bright's specialty, and after almost two decades in the business, we're experts at installing lawn sprinkler systems and their controls.
When automatically time-controlled underground lawn irrigation systems are properly designed and installed, they can be effectively used to grow high-quality turf. In addition to applying necessary water for plant growth, automatic lawn irrigation systems can:
provide water to move pesticides and fertilizers to the root zone;
remove frost;
help reduce thatch by maintaining a moist environment for microbial degradation; and
cool the plant surface and air that surrounds the home or commercial building, through the process of plant evapotranspiration.
When compared to hand watering with hoses and sprinklers, these automatic systems give more uniform coverage and can reduce water loss by not watering sidewalks, streets and buildings. In addition, irrigation can be automatically scheduled to avoid peak residential water demand, which is important when using municipal water.
Good Judgment Needed 
Although an automatic timer may be set to irrigate several times a day, every day and at various time intervals – DON'T. Instead, use good judgment to decide when irrigation is needed, then either (1) manually set the clock to automatically rotate through the different stations (valves/zones), (2) program the system for one irrigation to occur; for example the next morning, or (3) set the automatic timer to provide one or two irrigations per week with either automatic or manual cutoff if significant rainfall or mild weather occur. However, it is best and most economical to initiate watering only when drought becomes evident.
When is Turf Too Dry? 
Dryness is evident when:
turf on high spots and/or south slopes starts to show some chlorosis or turns bluish gray in color;
footprints remain in the grass long after being made;
soil from the root zone is dry or powdery;
no rain has occurred for about one week and hot, dry, sunny, windy weather persists.
The very best way to determine if irrigation is needed is to probe the surface soil and determine if the surface inch or two is visibly dry.
By installing an irrigation system, you'll save time, money, and resources – so go green and get wet!
For more information about outdoor drainage systems in Maryland, call Aqua-Bright today at 410-489-9009 or take a tour through our website.
Make a splash and follow Aqua-Bright Irrigation & Illumination on Facebook, Twitter, Google+, and LinkedIn! For examples of our work, check us out on Pinterest, too! [454]
Source:  University of Kentucky Dept. of Agronomy: Lawn Irrigation with Automatic Systems