Installing a sprinkler system to your yard in Baltimore can be tricky if you don't know which one will be best for your needs. Fortunately below is a handy guide about the different types of sprinkler systems in Baltimore and which will be best for your lawn. One thing is for certain, whichever sprinkler system you choose, it will be better than when you water the lawn by hand with a hose.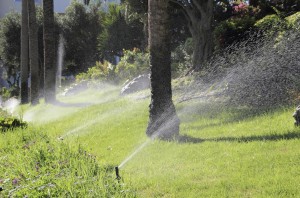 Spray Sprinkler Heads – a spray sprinkler head is designed to shoot a large amount of water over a 5-15 foot radius. This type of sprinkler system is perfect for a small flat yard in Baltimore.
Rotor Sprinkler Heads – this is perfect for larger lawn in Baltimore or if your yard is sloped. The higher pressure sprinkler system can send water up to 50 feet.
Pop-up Sprinklers – this type of sprinkler lays even with your Baltimore lawn when it is not in use.  Both spray and rotor sprinklers can be installed as pop-up sprinklers.
For more tips about sprinkler systems in Baltimore, check out:
About Aqua-Bright Irrigation & Illumination in Baltimore
At Aqua-Bright, it is more than just getting the job done, it's getting the job done right. That is why we take our time and pay attention to every detail. Whether it is installing lawn sprinkler systems, outdoor security lighting, or basement waterproofing, the professionals at Aqua-Bright do the job right. We wouldn't have it any other way.
For more information about outdoor drainage systems in Baltimore, Maryland or the surrounding areas, call Aqua-Bright today at 410-489-9009 or take a tour through our website.
For more information, call Aqua-Bright today at 410-489-9009 or email us. Ask us about our outdoor lighting as well.
For more irrigation tips in Baltimore, we've got you covered.
Make a splash and follow Aqua-Bright Irrigation & Illumination on Facebook, Twitter, Google+, and LinkedIn! For examples of our work, check us out on Pinterest, too.
Source:
http://www.ask.com/explore/different-types-sprinkler-systems