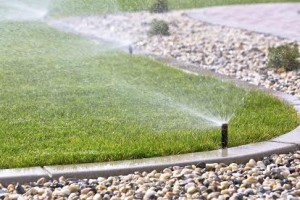 For the most part in Maryland, we get plenty of rain to keep plants and greenery alive, but sometimes we'll experience a draught or just won't get enough rain to keep your lawn as green and lush as you would like. In those cases, you need some way to make sure that your lawn gets the water that it needs. Some people choose to use manual sprinkler systems or even water the lawn by hand. It's advisable to water by hand if you can't reach a specific spot, but generally that takes up a lot of extra, unnecessary time. For those times when your lawn needs extra water, irrigation systems can really help.
Save time – Hooking up sprinkler systems to hoses is time consuming. You have to pull out the sprinkler, place it just right, hook it up to the hose, and hope that the hose will actually reach far enough for you to water the whole yard. Once you've gotten started watering, you have to keep an eye on the clock and make sure to move the sprinkler around your lawn every half hour or so to reach the entirety of your lawn.
Save water – Did you know that an automatic sprinkler system uses less water than manual watering? It's programmed to only use a certain amount of water and run for a specified amount of time. You won't be overwatering or dealing with a lot of guesswork on where you've watered and what's left to do. Irrigation systems are placed strategically to water your lawn perfectly.
Automatic, but controlled – You can always turn your irrigation system off if the area is getting a lot of rain or if you've got guests at the time that your lawn is supposed to be watered. All you have to do is turn the system off for the day. When you're ready to turn it back on, most irrigation systems will retain the original settings and go back to the daily watering pattern that you have set up. Otherwise you never have to worry about your lawn getting watered; your irrigation system will automatically do it for you.
An irrigation system will help simplify your life and keep your lawn and garden looking beautiful all season long. If you're ready to have an irrigation system installed and want to talk about your options, call Aqua-Bright today at 410-489-9009, stop in and visit us, or take a tour through our website.
Illuminate yourself and follow Aqua-Bright Irrigation & Illumination on Facebook, Twitter, Google+, and LinkedIn! For examples of our work, check us out on Pinterest, too.
Source: https://www.rainbird.com/homeowner/education/benefits.htm