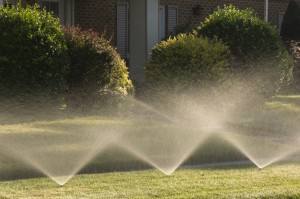 Keeping your lawn green can be a challenge, but it's much easier when you have an irrigation system installed. Irrigation systems help you to keep your lawn and garden watered when you don't have time to do it yourself or when you want to make sure that everything is getting just the right amount of water. They're great for saving money and getting the job done quickly and easily. Did you know that there are different types of irrigation systems that work better for certain things? Irrigation systems aren't always a one-size-fits-all deal. Check out some of the different types of sprinkler and irrigation systems that you can have installed in your home.
Drip Irrigation Systems
This type of irrigation system is best used for gardens. They're "low-flow" and don't release a lot of water at once. They essentially keep things damp all the time to keep them growing and healthy. Those who are serious about their gardens and want to keep them growing well all spring and summer long should look into drip irrigation. The important thing to remember if you do choose this type of irrigation is that it can require a lot more maintenance than other options. Your best bet is to have a professional install them and maintain them so that you can keep using the system for years.
Overhead Sprinkler System
This is the type of system used most frequently by homeowners. Generally these sprinklers are the ones that pop out of the ground and provide water for entire lawns. You can see how they might be a little overkill for gardens (unless you have a large garden), but work great to keep an entire lawn lush and green. Overhead sprinklers are made to deliver a uniform amount of water to your entire lawn and are strategically placed so that you get an even watering without much overlap. It's also important to have these professionally installed so that you don't unnecessarily tear up the ground or install them improperly. Professionals know where they need to be placed and how to place them for optimal water efficiency.
Irrigation System Installation from Aqua-Bright
At Aqua-Bright, it's more than just getting the job done, it's getting the job done right. That's why we take our time and pay attention to every last detail. Whether it's installing lawn sprinkler systems, outdoor security lighting, or basement waterproofing, the professionals at Aqua-Bright do the job right. Kevin wouldn't have it any other way. Call Aqua-Bright today at 410-489-9009, stop in and visit us, or take a tour through our website to get started with your irrigation system.
Illuminate yourself and follow Aqua-Bright Irrigation & Illumination on Facebook, Twitter, Google+, and LinkedIn! For examples of our work, check us out on Pinterest, too.

Source: Camarillo Gardening