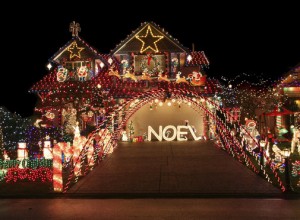 At Aqua Bright we know this time of year is utterly unique when it comes to outdoor lighting. Millions of people around the globe will take to their rooftops and gutters to hang the same thing: Christmas lights. This colorful display of holiday pageantry has evolved over hundreds of years into a unique form of artistry and expression that any homeowner can get in on. As suppliers of top quality outdoor lighting instruments, Aqua Bright, holds decorating with Christmas lights in a special place in our heart and today we thought we'd share a bit of this holiday activity's history with you.
The Beginning
The history of Christmas lights dates back to 18th century Germany, where Christmas trees were adorned with candles in upper-class homes. This tradition spread to the United Kingdom and from there to North America and Australia around 1830, during the reign of Queen Victoria. Electric Christmas lights began to see use in the early 1880s and were called, in the UK "fairy lights," a term that persists there to this day. The first large display in the history of Christmas lights was at the Savoy Theatre, London in 1882. These small, colored electrical lights were used for the opening night of the Gilbert and Sullivan opera Iolanthe.
The First Tree
In the history of Christmas Lights, the invention of the electrically illuminated tree is credited to Edward H. Johnson, an associate of inventor Thomas Edison. As vice president of the Edison Electric Light Company, he had Christmas tree light bulbs made for decorating his personal tree in 1882, which was wired with 80 red, white and blue electric incandescent light bulbs, which were roughly the size of walnuts. Though ignored at first, the idea caught on and by 1900 business began hanging Christmas lights outside their windows during the holiday season.
The Presidential Seal of Approval
Another important moment in the history of Christmas lights came in in 1895, when U.S. President Grover Cleveland became the proud owner of the first electrically lit Christmas tree in the White House. It was a gigantic exemplar and boasted over a hundred multicolored lights. From that moment, America could not get enough of Christmas lights and the idea spread with increasing fervor. However, due to their expensive nature it would not be until 1950 that these lights were to be adopted by average homeowners.
Shortly after their adoption by the general public for lighting Christmas trees, Christmas lights began to be used in more creative ways. Soon, homeowners were hanging multi-colored lights along mantles and doorways, roof-lines and railings, eventually becoming part of the grand, sometimes theatrical, Christmas light displays we know and love.
Need Christmas Lighting For Your Home?
At Aqua-Bright, we know our history and can help you figure out what type of outdoor Christmas lights are right for your home. We'll help you find the right lights to make your outdoor Christmas lighting display spectacular and safe. To talk to someone about Outdoor Christmas Lighting in Baltimore, Maryland or the surrounding areas, call Aqua-Bright today at 410-489-9009 or take a tour through our website.
Illuminate yourself and follow Aqua-Bright Irrigation & Illumination on Facebook, Twitter, Google+, and LinkedIn! For examples of our work, check us out on Pinterest, too.