As you think about landscaping solutions for your Maryland home, you may also want to consider the role safety plays in making your outdoor living area a secure, comfortable place. Outdoor lighting can go a long way to improving security around your home. Fortunately, there are many aesthetically pleasing and functional ways to incorporate outdoor lighting solutions that will help keep your home and loved ones safe.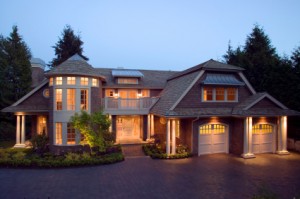 One way outdoor lighting can be extremely useful is by illuminating dark spots around your home. Without lighting, it can make your home a hazardous area for family, friends, and even yourself. Small obstacles such as rocks, steps, and dips in the ground might be easy to spot during the day, but can be treacherous at night. Use well-lit walkways to avoid issues of liability or personal injury.
Additionally, your home security system may benefit from a well-lit landscape, in that good lighting is known to deter trespassers and potential criminals. Motion detector light systems can help visitors see as they walk around your property, while keeping trespassers away. You may want to consider adding lighting to walkways such as sidewalks, garages, and entryways to make your home easier to navigate, while discouraging would-be thieves with the regular visibility provided by your outdoor lighting at all hours.
Also, you can use advanced lighting control systems to protect your home no matter where you are. Some products are sold specifically for this purpose: timers, light-sensitive photo cells, remote controls, computerized lighting systems and more. They can all help present the impression that you are home, further discouraging intruders.
Outdoor lighting is smart investment as well as smart security. That is, outdoor lighting improves curb appeal and property value. A well-lit home indicates that someone lives here and takes care of the home and land around it. Get more for your money and make your outdoor lighting solutions safe for you and your family, while adding value to your home.
At Aqua-Bright, we take our time and pay attention to every detail to get the job done right. For more information about outdoor lighting in Maryland, call Aqua-Bright today at 410-489-9009 or visit our website!
Source: https://www.redbeacon.com/hg/benefits-functional-outdoor-lighting/#ixzz32pdcHlyh
Make a splash and follow Aqua-Bright Irrigation & Illumination on Facebook, Twitter, Google+, and LinkedIn! For examples of our work, check us out on Pinterest, too!