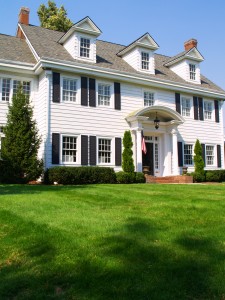 If you don't use your sprinkler system correctly, you could be wasting water, time, and energy trying to keep your lawn green and lush. If you find that your lawn and plants simply aren't doing as well as you'd like, you could actually be watering them incorrectly. There are methods to using your sprinkler system properly, and if you follow a few tips and steps, you could have the lawn you want on the water budget that you need. Check out some of the best tips we've compiled to keep your sprinkler system running efficiently!
Don't overwater – If you give your plants and grasses too much water, you could be hindering more than you're helping. As with water in your home, too much of it can promote mold growth and fungus, which can eventually kill your grasses. If your grass has stopped springing back when you step on it, is starting to look dry, or we're having a particularly harsh Baltimore summer, turn on those sprinklers.
Water early – Watering between 4 and 9 in the morning will give you the best results. Since the sun and the wind are the least harsh at this time of day and your water has had time to cool off, it will be the most efficient time for watering. Assess your grass before you go to bed at night. If it looks like it needs to be watered, set your timer to water it.
Water properly – Aim your sprinklers directly at your lawn or plants – there's no reason to water the street. Make sure that as much water as possible is making it to your grass. If you notice that the water is starting to pool or run off the grass, shut your sprinklers off to give the ground time to absorb the water; otherwise you're wasting water and money.
Take care of problem spots – If there are spots that your sprinklers don't reach or that rain can't get to, water by hand like you would any of your other plants. Make sure that you aren't overwatering the rest of your lawn just to make sure that one or two trouble spots get enough water. If you know an area needs special attention, give it that attention.
The above tips will help you save water and money, while getting the most out of your Baltimore sprinkler system. If you're using all of these tips and still finding that you're using too much water or your grass isn't green enough, it's time to contact someone who can work with you to get your irrigation system running properly!
About Aqua-Bright Irrigation & Illumination in Baltimore
At Aqua-Bright, it is more than just getting the job done, it's getting the job done right. That is why we take our time and pay attention to every detail. Whether it is installing lawn sprinkler systems, outdoor security lighting, or basement waterproofing, the professionals at Aqua-Bright do the job right. We wouldn't have it any other way.
For more information about sprinkler systems in Baltimore, Maryland or the surrounding areas, call Aqua-Bright today at 410-489-9009 or take a tour through our website.
Illuminate yourself and follow Aqua-Bright Irrigation & Illumination on Facebook, Twitter, Google+, and LinkedIn! For examples of our work, check us out on Pinterest, too.
Source: https://www.wikihow.com/Water-Your-Lawn-Efficiently