If you have a thirst for maintaining a well-kept landscape, we can help. With the proper watering systems and a little lighting, even the humblest homes can take on the look of a neatly manicured country club with lush lawns and well-lit outdoor spaces.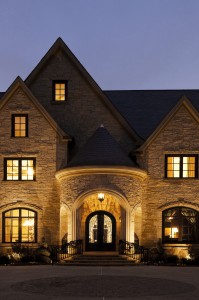 Here's a brief rundown on what a sophisticated irrigation system and lighting display can do to add practical appeal to your home –
– Beat the Heat: Though it might be hard to think of summer in the dead of winter, it's not difficult to recollect what too much sun does to our lawns. A full day in the heat, and plants and grass shrivel up and ultimately die. Without a thorough watering on a daily basis, greenery is bound to turn brown. Avoid a lackluster landscape with lawn sprinklers, as well as irrigation systems for planters, window boxes, and yes – even rooftop gardens.
– Get Night Light: The purpose of outdoor lighting is typically two-fold: either to provide illumination for safety and security, or to accentuate architectural elements and create a mood. Whether you need to make a path or deck visible, light an area to deter trespassers, show off a water element, tree, or otherwise, outdoor lighting can do the trick.
Stay tuned on our blog for weekly insights and tips on all things landscaping – we'll help you get your feet wet in developing an eye for great curb appeal and shed light on the elements that make for a lively landscape.
For more information about lawn irrigation and outdoor lighting in Maryland, call Aqua-Bright today at 410-489-9009 or take a tour through our brand new website!
Make a splash and follow Aqua-Bright Irrigation & Illumination on Facebook, Twitter,  Google+, and LinkedIn! For examples of our work, check us out on Pinterest, too!