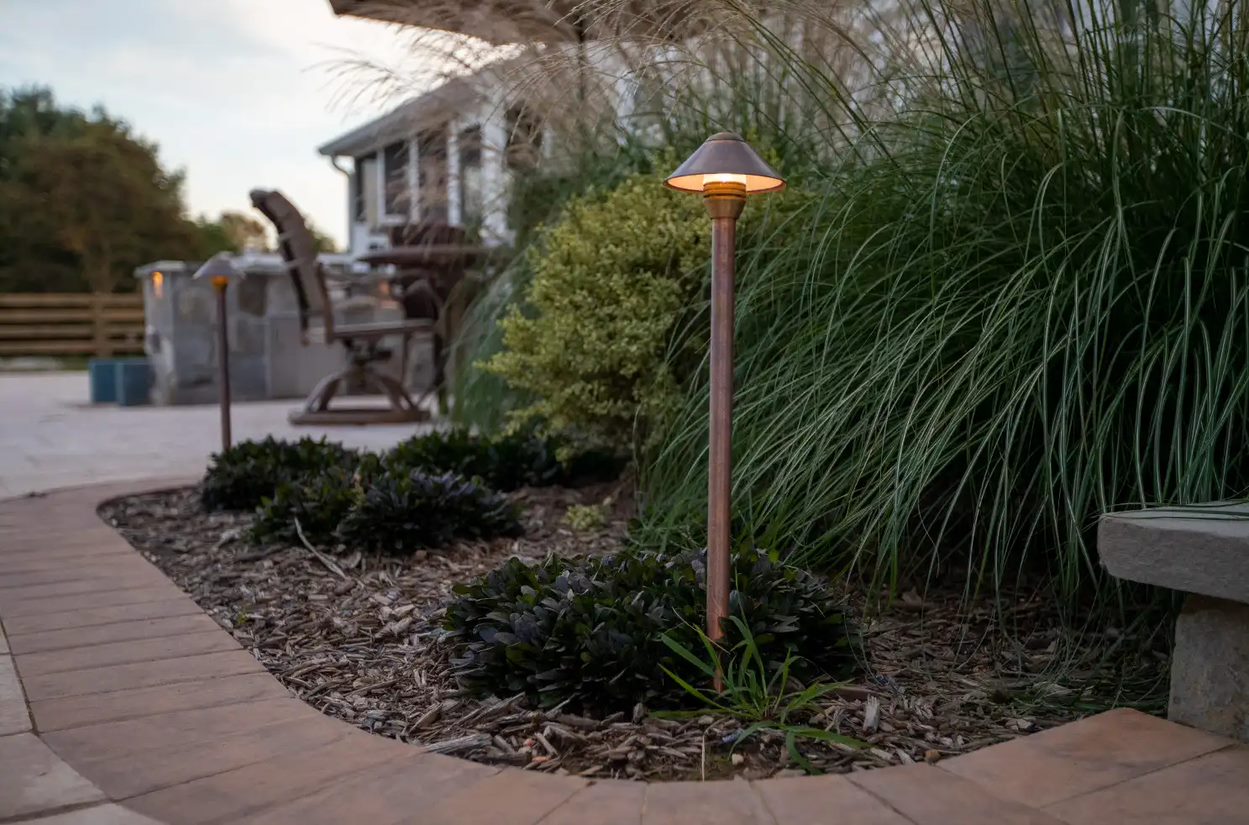 Using outdoor lighting is a great way to expand your home's useable space, especially during the later portions of the year, when days are shorter and nights lengthen considerably. Outdoor lighting expands your property's usable space by providing illumination and can also be used to increase your home security. But what types of outdoor lighting fixtures should you choose? Don't worry; the team at Aqua-Bright has you covered. 
Uplights 
Uplighting can add appeal to an outdoor space, and it can also create a more even distribution of light. Uplighting is particularly useful for highlighting architectural features, as it can draw attention to these elements and make them stand out. Uplighting can save you money on energy costs as well. Uplights use less electricity than traditional overhead lighting, which can help to lower your monthly energy bills. Uplightights can also reduce the amount of artificial light needed in a space, which can have a positive impact on the environment.
Wall Lights
Wall-mounted outdoor lighting fixtures are an excellent way to enhance your home or building while providing practical illumination. These fixtures come in various styles and sizes, making it easy to find one that complements your property's architecture and design. By installing wall lights, you can create a warm and inviting atmosphere for any guest, ensuring they feel welcome from arrival. Additionally, wall-mounted outdoor lighting can serve as a valuable security measure, deterring potential intruders and making your property safer at night.
Flood Lights
Flood lights are an excellent choice for property owners who want to enhance the security of their property through outdoor lighting. These fixtures produce a powerful, wide beam of light that reaches a great distance. When placed at the proper height, flood lights can provide maximum coverage and protection for your yard while ensuring they cannot be tampered with easily. With floodlights installed, your yard will be a safe and well-lit space for all nighttime activities.
Path Lighting 
Having adequate outdoor lighting is crucial for ensuring safety and security, mainly if you operate a business at night or early morning. Path lighting helps prevent accidental falls, as well as from encountering unexpected barriers on your property. By installing outdoor path lighting, you can prioritize safety and reduce the possibility of accidents around your home.
Downlights
These lights can illuminate driveways and walkways so people can see where they are going. Downlights can also light up an outdoor space and make it more functional. Downlights provide a similar effect as the moon by casting light downward. It can be much more subtle and used as an attractive way to light up a space. 
As Always, Don't Hesitate To Contact Aqua-Bright For All Of Your Outdoor Lighting Needs!
You can trust the Aqua-Bright professionals to design and install your custom lighting design. We service clients throughout several Maryland counties, as well as Washington DC and Northern Virginia. You can read our customer reviews on our site to learn more about how we provide excellent results. For a consultation and to hear what we can do for you, give us a call at (410) 489-9009 or submit our Quick Contact Form online. You can also follow us on Facebook, Twitter, and LinkedIn to receive the latest updates on our lighting services and projects.