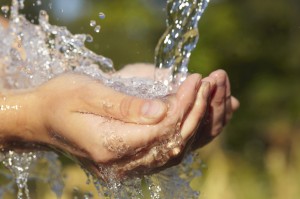 It might seem counter intuitive to you that a sprinkler system can actually help you save water rather than using too much of it. We get that. You've probably been told for a majority of your life to be careful about how much water you're using. There's obviously a good reason for that. Did you know that only about 1% of Earth's water is drinkable and only 2.5% is fresh water? The statistic surprises most people when they first hear it because of the amount of lakes and apparent fresh water that we can see. Because of the shortage of fresh water, an initiative called "Smart Irrigation Month" has been proposed for the month of July. Check out some of the benefits that they list for using an irrigation system for your Maryland landscaping.
Save money on your utility bill – Using an irrigation system means that you're only using the amount of water that you need to keep your grass green and growing. If you're not over watering, you're going to save money on your water bill at the end of the month. Everyone likes a little extra green in their yard and in their pocket.
Easily maintain your yard – Automatic sprinkler systems give you the benefit of going green, but they also make it easier for you to keep your lawn looking good and healthy without having to do much work. You simply program your sprinkler system to work when you need it to rather than setting up mobile sprinklers and moving them around every half hour or so.
Help reduce the waste of fresh water – A good automatic sprinkler system can easily be adjusted to account for rain and ensures that you're only using the water you need. Generations to come are going to need all of that fresh water that we're wasting right now. Using an irrigation system to water your lawn will help reduce the depletion of our fresh water sources.
Maryland irrigation systems are a great way to save water and money, which we could all use a little bit more of. Turn to Aqua-Bright for the best irrigation system installation in the Baltimore area. We can install the system that will work best for you and make certain that the sprinklers water your lawn with maximum efficiency. call Aqua-Bright today at 410-489-9009, stop in and visit us, or take a tour through our website to get started with your Maryland irrigation system.
Illuminate yourself and follow Aqua-Bright Irrigation & Illumination on Facebook, Twitter, Google+, and LinkedIn! For examples of our work, check us out on Pinterest, too.
Source: Smart Irrigation Month