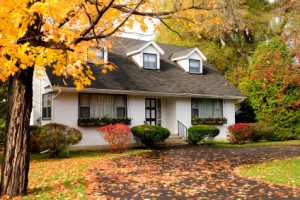 Fall weather is finally upon us! After the near heat stroke we had for a couple of days last week, it's time to bring out the sweatshirts and enjoy some warm drinks while watching football.  While all of this may sound appealing, there are a few responsibilities that come with fall as well, especially when it comes to your water irrigation system. Winterizing your irrigation system can ensure that everything is prepared for the winter months and will be in top shape when spring comes again. Follow this checklist to see to it that your irrigation system is ready to go for the chilly months ahead.
Make sure everything is functioning correctly – This step is a pretty easy one since you've been using your sprinklers all summer. Make sure that nothing is blocked and that the plants that are supposed to be getting water ARE getting water. It's the easiest way to save water and keep your plants and lawn happy at the same time.
Empty the lines – After the last day that you water your lawn, empty the system of all water to avoid freezing in the winter. This will help eliminate possible breaks in the line and pipe busts that can be costly and time consuming. Do the same thing with your hoses to keep them working in top shape, too.
Insulate outdoor pipes – Even though you have removed all of the water from the pipes, it is still best to keep them warm. You may even want to insulate your indoor pipes in the event that you go on vacation or leave your house for a few days in the cold months.
Take care of your gutters – Clear all debris from your gutters and downspouts. If you don't, it can cause ice dams to form in the gutters. This can cause back up, which can flood your home or yard.
Along with these self-maintenance tips, it is always good to have a professional come out and check your sprinkler system for any problems or routine maintenance that needs to be done before winter sets in. Trust your system to the professionals at Aqua-Bright to prepare you for the fall and winter months ahead.
For more information about lawn irrigation and outdoor lighting in Maryland, call Aqua-Bright today at 410-489-9009 or take a tour through our brand new website!
Make a splash and follow Aqua-Bright Irrigation & Illumination on Facebook, Twitter,  Google+, and LinkedIn! For examples of our work, check us out on Pinterest, too!
Sources: Sprinkler Maintenance Tips