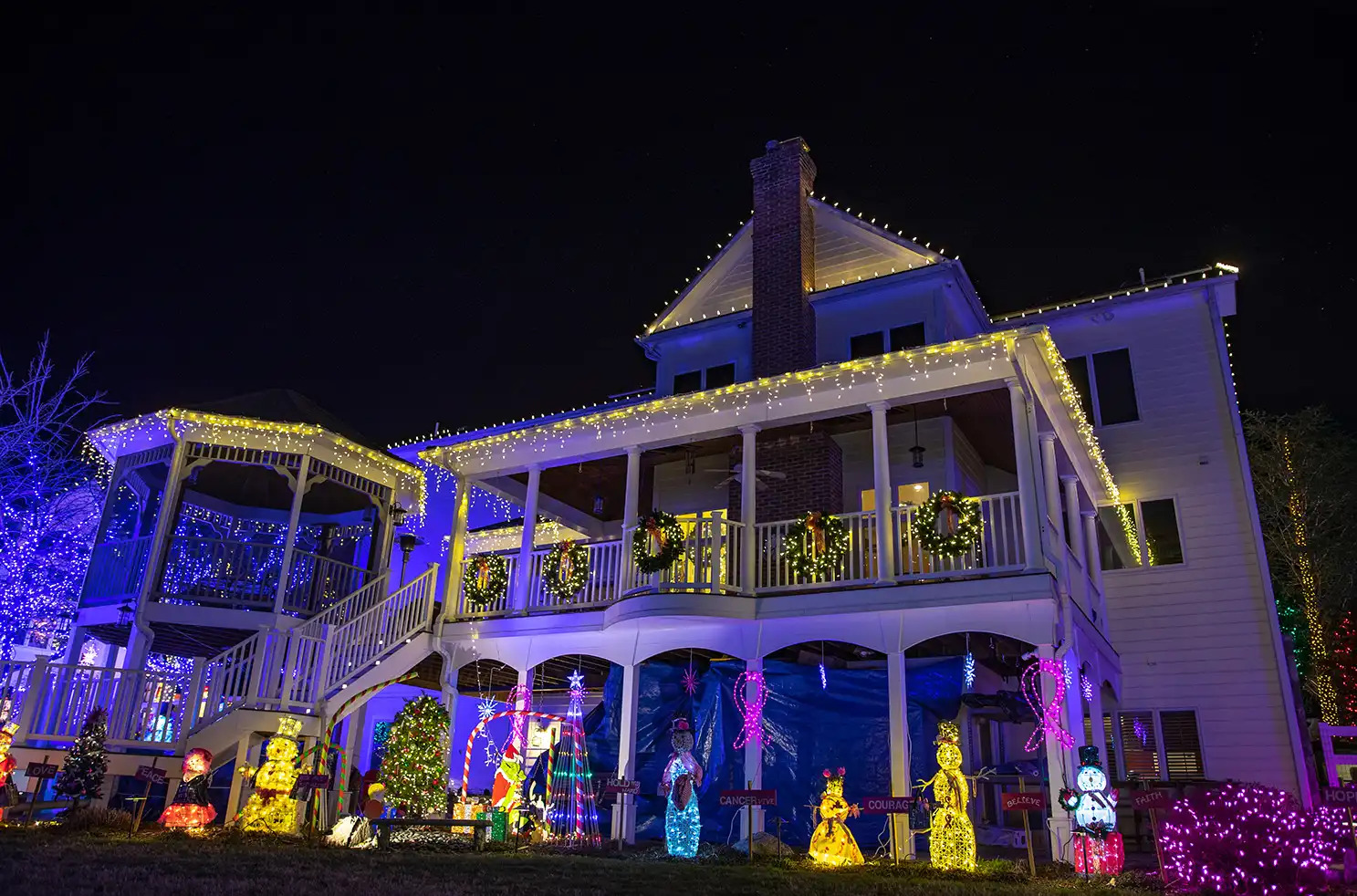 The holidays are approaching, so now is the perfect time to start planning. From shopping to making your list and checking it twice, there's a lot to handle – and we haven't even mentioned hanging holiday lights on your home or business. At Aqua-Bright, we're ready to help you enjoy your holiday decorations without the stress, labor, and time of hanging them alone. Continue reading to learn more about the advantages of a professional holiday lighting installation. 
Save Time & Kickstart the Holiday Season
The end of the year is a busy and stressful time for many, especially for those preparing for people trying to get ahead before the holiday season. If you need more time, consider having your holiday lights professionally hung. Doing so can save time and ensure your property is beautifully decorated without stress. Our professional service is quick, with convenient appointment times to fit your schedule. Let us help you bring in the holiday spirit with ease!
Avoid Serious Risk Of Injury
According to research, nearly 20,000 people are estimated to go to the emergency room for injuries caused by hanging Christmas lighting. From putting things up to taking things down, sprains, lacerations, fractures, and dislocations are frequent. Professional lighting installation will help prevent these injuries from ruining your holiday or starting the new year on the wrong foot. We bring our ladders and abide by strict safety protocols to access even the highest areas of your property, ensuring a comprehensive and safe holiday light design.
Avoid Costly Damage To Your Residential Or Commercial Property
Hanging holiday lighting can be daunting, especially if you need help doing it correctly. While staples, nails, and clips are standard methods for hanging lights, they can cause significant damage if not installed or removed correctly. It's essential to ensure your holiday lights are powered safely, as more lights mean more electrical cords, which increases the risk of electrical hazards, such as fire and shock. 
Instead of taking on the task yourself, it's best to let our team of professionals handle it. Their expertise lets them plan the best power solution for your holiday display while preventing property damage. We can also help you decorate your roof, windows, trees, bushes, doors, fences, and more with holiday lighting using trusted systems that ensure your home and your family's safety.
We Can Safely Take Down Your Holiday Lighting
If you're looking for a hassle-free holiday light installation service, you're in luck! With our holiday light installation services, you can sit back, relax, and let us handle everything. Not only will our team install your holiday lights with precision and care, but we'll also take them down for you, ensuring they're safely stored away for next year. So, what are you waiting for? Contact us today, and let us bring some holiday cheer to your home!
As Always, Don't Hesitate To Contact Aqua-Bright For All Of Your Holiday Lighting Installation Needs!
You can trust the Aqua-Bright professionals to design and install your custom lighting design. We service clients throughout several Maryland counties, as well as Washington DC and Northern Virginia. You can read our customer reviews on our site to learn more about how we provide excellent results. For a consultation and to hear what we can do for you, give us a call at (410) 489-9009 or submit our Quick Contact Form online. You can also follow us on Facebook, Twitter, and LinkedIn to receive the latest updates on our lighting services and projects.