Unpacking old holiday lights and purchasing new ones is a sure way to get you into the holiday spirit. It may also bring back memories of temperamental bulbs, overly ambitious gutter lighting, and constant labor intensive management.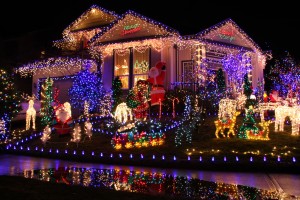 Below, we have put together a list of tips that will help you plan well, implement new creative lighting ideas, and produce an overall façade that exudes a merry Christmas cheer, not holiday stress.
1.       What's New?
Go out and look at new arrangements and lighting options. New styles of clips can be found that attach to the gutter, inside the doorway, and along the walkway, making it easier to space bulbs.
A light tester can be purchased to find the damaged bulb at the plug or at the bulb socket, and fix them within seconds. Audible continuity detector pinpoints the problem by tracing the circuit to the point of interruption.
Most hardware stores are holding Holiday Lighting Nets, which are simply nests with lights attached to be draped over windows or doors for a snow fall look.
2.       Light your Path
A well light path to your door will make you seem inviting, warm, and conscience of the dangers of an unlit, icy walking area. A big tip is instead of using precariously sitting candles in bags, or messy string of lights, prop the lights upward with steaks and then cover the cord with snow.
The steaks can be purchased at most home centers and gardening stores. If you're left with limited snow, then steak the lights into the ground anyways and cover the cord with ivy or ribbon.
3.       Save Energy, Save Money
Use long-lasting and energy-efficient LED holiday lights. This year focus on a transition towards safer, more energy efficient lights by replacing a quarter of your ancient collection of lights.
Purchase holiday lights that come with timers, so that they turn off and on during the times when only bats will be able to appreciate your set up.
4.       Run Tests
As tempting as it is to wait to turn the lights on until the creation is completed for a truly impressive reveal, any engineer will tell you that tests must be run constantly. Before connecting one set of lights to the next, always test the first set!
5.       Plan
By taking the time to measure the amount of lights needed for a certain area, you are ensuring that the lighted area will be balanced and not feebly bright.
For more information about outdoor lighting in Maryland, call Aqua-Bright today at 410-489-9009 or take a tour through our brand new website!
Make a splash and follow Aqua-Bright Irrigation & Illumination on Facebook, Twitter, Google+, and LinkedIn! For examples of our work, check us out on Pinterest, too!
Source:
http://www.bhg.com/christmas/outdoor-decorations/outdoor-holiday-lighting-tips/