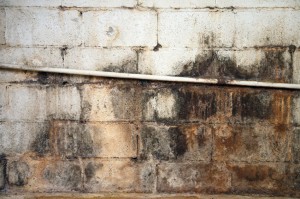 Spring is known as the time of year for yard drainage problems, especially after the thaw from a harsh winter. But yard drainage in winter can pose as big a threat as spring. Winter weather can be highly unpredictable, and there might be many snow storms, and thaws over the course of the season, not to mention unseasonal warm spells and rain. That's why it's important to prepare now, to reduce the risk of damage to your yard and home.
The Risks and Potential Damages
While winter yard flooding isn't common in the Mid-Atlantic, it's a more serious issue during this time of year then it might be during spring, summer, or fall. This is because of the freezing and thawing processes, which can cause both serious damage to your yard, and your foundation.
An improperly drained yard in winter can lead to pools forming during the thaws, which form solid patches of ice when the temperature gets below freezing again. During thaws the pools formed can drown your garden plants, or grass.  When the temperature reaches freezing again the solid pools of ice can kill your plants, as being completely encased in ice is different from being covered by snow, which actually insulates your plants. The damage to your yard from improper draining during the winter can lead to a dead lawn, and garden in the spring.
Winter poses a serious risk of damage to your foundation that might have long lasting effects, increasing the chance of basement flooding. During the thaws of winter improperly drained water can seep into ground beside your home, and enter minute cracks in your foundation. When the ground temperature drops below freezing again the water will freeze and expand, causing the cracks to grow larger, allowing more water to enter the crack next thaw.  This process repeated with each thaw and freeze of the winter season can lead to cracks that allow water to enter your basement.
Preventing and Treating the Risks
Fortunately, the damage described above can be avoided with simple preventative measures. When it snows, don't allow it to pile up against the sides of your home, take a shovel and spread it out.  When there's a thaw check the gradient of your yard, particularly around your home, and make sure it slopes away from the sides of your house. If you have a drainage system, make sure you clear debris out of the catch basins, as debris can quickly turn into dams that block the flow of water.
Need Drainage Systems Installation and Waterproofing
If you don't have a drainage system, the difference in gradient is too large to easily fix and fill, or water is already getting into your basement you need to call the professionals, Aqua-Bright Irrigation and Illumination. To talk to someone about winter basement waterproofing, and winter yard drainage, in Baltimore, Maryland or the surrounding areas, call Aqua-Bright today at 410-489-9009 or take a tour through our website.
Illuminate yourself and follow Aqua-Bright Irrigation & Illumination on Facebook, Twitter, Google+, and LinkedIn! For examples of our work, check us out on Pinterest, too.