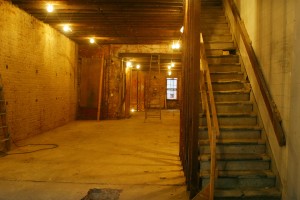 While it's true that basements do face a lot of danger during the rainy spring months, what with constant rains, flooding, water leaks, and mold growth, some of the greatest danger is actually posed during the winter months, especially if you haven't had your Maryland basement professionally waterproofed.
Accumulated snow eventually melts, and if there's a sudden temperature rise, it melts very fast, unleashing a deluge upon your basement. Accumulated water will seep in through porous cinder and brick, and if there's another temperature drop, it will flash free, instantly expanding and destroying your home's foundation, and making it easier for more water to seep in and do the same. The last thing you want to be dealing with over the holidays is a flooded basement, that's why Aqua-Bright is here with some tips for waterproofing your basement for the winter.
Don't Wait Till Winter to Begin Waterproofing
If you want to have your Maryland basement completely waterproofed by a professional waterproofing company, it's smart to get it done before bad weather trikes, not after. Snow and water, in addition to frozen soil can make waterproofing impossible and the damage to your home may already be done.
Avoid Piling Snow Around Your Maryland Home
If you're clearing your driveway or yard of a heavy snowfall, make sure to avoid piling it around or directly against your home. If the snow melts, you'll be dealing with some pretty serious basement damage. Drastic temperature shifts can even prompt the formation of ice dams, which will gradually cause your basement's structure to erode and eventually collapse.
Clean Gutters and Clear the Roof
It's an important part of winter waterproofing to ensure that your gutters are working properly and safely moving water off your roof and away from your Maryland home. Melting snow should be kept, at minimum, 5 feet away from your home's foundation. Before bad winter weather strikes, check your gutters and see if they're completely clear of any leaves or other fall debris. This will keep your roof safe from snow damage and help ensure that water stays well away from your Maryland home.
Need Professional Waterproofing for Your Maryland Basement?
If you're looking to keep your Maryland home's basement adequately protected during dangerous winter weather, there's only one company with the waterproofing experience you need to keep your home safe without breaking the bank: Aqua-Bright.  To talk to someone about winter basement waterproofing, in Baltimore, Maryland or the surrounding areas, call Aqua-Bright today at 410-489-9009 or take a tour through our website.
Illuminate yourself and follow Aqua-Bright Irrigation & Illumination on Facebook, Twitter, Google+, and LinkedIn! For examples of our work, check us out on Pinterest, too.