If you are moving from a dry climate or a city to a waterfront property, you will find that there are many new factors you will have to take into consideration when going about caring for your home. One of the most common occurrences around waterfront property is basement flooding. Because your basement is a low-lying area, gravity naturally channels water towards it. This can be especially risky near waterfront properties because when it rains, nearby bodies of water can sometimes flood and as a result, you are met with flooding in your basement.
Basement flooding can lead to a variety of problems for a homeowner. Obviously, it is not good to have standing water in a living area, and the water can damage appliances, electronics, and paper products if these are stored in the basement. Water can also damage the integrity of your foundation, and it can cause flooring and carpeting to become damp. Damp carpeting is the ideal surface for many varieties of harmful and toxic mold and mildew, so avoiding it is key to ensuring you and your family's health in your home.
A professional basement water-proofer should inspect your home to see whether it is at a higher risk of flooding because of its location, problems with the foundation, or improperly installed drainage systems. Once they determine that, they can go about waterproofing your basement effectively. They can do this by reconfiguring or installing brand new drainage systems, such as a French drain. They can also coat your flooring with high-grade sealants that repel water and prevent it from affecting your flooring and walls. Taking the do-it-yourself approach to basement waterproofing may be tempting at first, but do not underestimate the difficulty of the task and the quality of equipment needed to achieve it.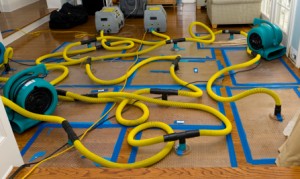 If you are a newcomer to a high flood risk area, know that you have professional, reliable help in Aqua-Bright Irrigation & Illumination. We can help prevent flooding and protect your home with our experience and know-how. Call today for more information!
For more information about waterproofing in Maryland, call Aqua-Bright today at 410-489-9009 or take a tour through our website.
Make a splash and follow Aqua-Bright Irrigation & Illumination on Facebook, Twitter, Google+, and LinkedIn! For examples of our work, check us out on Pinterest, too!