Think about the low-lying areas of your yard. During heavy rain, they collect water, become muddy, and, more often than not, channel water towards your house and into your basement, causing flooding. You can of course waterproof your basement with the help of Aqua-Bright's experts, but you can also tackle the problem at its source. Installing a French drain might be the key to minimizing water damage in your home.
What is a French drain, exactly? A French drain is a trench that is sloped away from your house so that in the event of heavy rain, water is directed away from it. French drains are lined with gravel and small rocks to help with water diversion and to make them an aesthetically pleasing part of your landscape. Many homeowners choose to incorporate plan life or ornamental grasses around the border of the gravel of a French drain to make it not only a functional feature, but a beautiful one too.
You can customize your French drain to suit your property's individual needs. For example, if surface water, or large puddles of water gathering in your lawn, is your specific problem, then a shallow French drain would be your solution. To stop a basement from flooding, a deep French drain might be the key. Interior French drains can also minimize the amount of water that finds its way into your basement.
When you customize a French drain, you can also choose where to divert the water it channels to. Some homeowners choose to install a drainage ditch along with their French drain; it is lined with the same gravel and pebbles and will collect the water away from high traffic areas. If there is another low-lying area of your property that does not slope towards your home, French drains could be directed towards it as well. For a French drain facing the front of your house, you could direct the water towards your street, where it will follow gutters into a storm drain.
Do you have more questions about whether a French drain is right for your property? Call the experts at Aqua-Bright today for more information.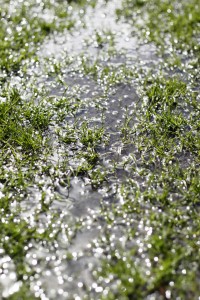 For more information about outdoor drainage systems in Maryland, call Aqua-Bright today at 410-489-9009 or take a tour through our website.


Make a splash and follow Aqua-Bright Irrigation & Illumination on Facebook, Twitter, Google+, and LinkedIn! For examples of our work, check us out on Pinterest, too.

Source: