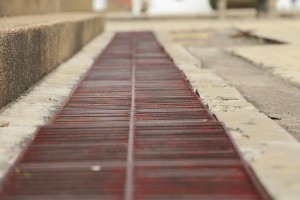 If you've driven around Maryland after the huge rainstorm we just had, you may notice that some lawns, fields, and roads have essentially become lakes. While the past week is an extreme example of what happens if you don't have the proper home drainage system, it's something you should seriously consider. Letting water build up in your yard can be dangerous, as it can eventually get into your home or cause your grass today. Standing water in a basement is not only a nuisance, but can also be very dangerous if you have any appliances that require electricity in the area. How can you take care of these problems? With a drainage system!
French drains – These are some of the easiest drains to install. They work around the way that water operates. Since it flows downhill and takes the path of least resistance, that's what French drains become. French drains are essentially trenches that use rocks and other decorative methods to function as a practical, yet aesthetically pleasing home drainage system. If water is getting in your basement, sticking in a low-lying area, or pooling your yard, you may want to consider a French drainage system to direct the water elsewhere.
Underground drains – When it rains, water collects in your gutters and moves down through your downspouts to keep rain from pooling on your roof or weighing down your gutters. When the water flows down through the downspouts, it usually comes out on to the ground. You need a way to irrigate the water away from this area, as it could seep into the foundation of your home or your basement. French drains are useful for this, as are underground drains. You can have a drain installed that will run the water away from your home by underground means.
These are two of the most common types of drains that we install to help you keep water damage at bay. When we install the drains, we make sure to waterproof around them as well, to try to avoid more water going anywhere it shouldn't be. At Aqua-Bright, we believe in working quickly, efficiently, and leaving your home the way that we found it when we started – with just a little bit of improvement.
For more information about home drainage systems in Baltimore, Maryland or the surrounding areas, call Aqua-Bright today at 410-489-9009 or take a tour through our website.
Illuminate yourself and follow Aqua-Bright Irrigation & Illumination on Facebook, Twitter, Google+, and LinkedIn! For examples of our work, check us out on Pinterest, too.
Source: http://www.houselogic.com/home-advice/drainage/french-drains-when-you-need-them/#.