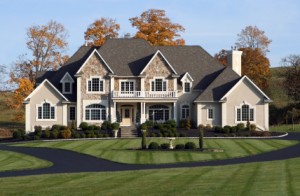 Are you experiencing major flooding in your basement with every rainfall? Is your property full of low-lying spaces that collect huge puddles of standing water? If your answer to these questions was "oui," it may be time to consider a French drain as a way to solve your drainage problems.
A French drain is a trench that slopes away from your home to divert water to other areas where it cannot cause as much damage. The trench is made up of gravel, and the pipe that runs through the trench has holes drilled into it so that the water will flow into the gravel trench and not the soil, meaning not only does it divert water away from your house, but it also prevents it from collecting in your yard. Outdoor French drains rely on the force of gravity to channel water away from your home, so it does not rack up your electric bill like some pumps would.
French drains remove the water before it has the chance to enter the basement, cutting back significantly on water damage and flooding that might have otherwise occurred. Though installing one may require some reworking of your landscape design (excavating the site to dig the trench means some plant life will be removed), the benefits it brings you outweigh this inconvenience.
French drains can also add value to your home, which is a huge bonus if you know you are planning to put it on the market in the future. A reliable drainage system and a basement that is resistant to flooding are highly sought-after attributes of a home for most house hunters, and so making the investment now may be instrumental in bringing in more money later on.
If you decide to install a French drain to solve your drainage problems, give the landscaping experts at Aqua-Bright Irrigation & Illumination a call!
If you have any additional questions about landscape drainage, contact Aqua-Bright Irrigation & Illumination today!
We can help you transform your landscape.
For more information about outdoor drainage systems in Maryland, call Aqua-Bright today at 410-489-9009 or take a tour through our 
website
.
Make a splash and follow Aqua-Bright Irrigation & Illumination on 
Facebook
, Twitter, Google+, and 
LinkedIn
! For examples of our work, check us out on 
Pinterest
, too.
Source: