When it comes to keeping your property lit up, there are many different types of light bulbs you can use. Energy efficient light bulbs have been getting a lot of buzz lately. More specifically, compact fluorescent light bulbs (CFL's). They are a little more expensive but do they really save energy? Well the answer is yes! And you should be using them to light up the exterior of your home. Not only are they good for the environment, they are good for your wallet.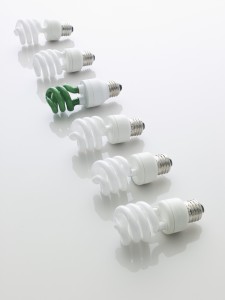 While there are different types of CFL's, the ones that are ENERGY STAR certified are the ones that can save the most energy. If every American home replaced one light bulb with an ENERGY STAR certified light bulb that would save enough energy to light three million homes for a year. On top of that, it would save about six-hundred million in energy costs and prevent nine billion pounds of greenhouse gas emissions. With statistics like that, it is a wonder why everyone has not already switched to compact fluorescent light bulbs.
A CFL lightbulb will be more expensive in the store, but they do not burn out as quickly as a reqular light bulb saving you trips to the store and money there. Additionally, because they are using less energy, your homes energy bill will be lower.
For more information about outdoor lighting in Maryland, call Aqua-Bright today at 410-489-9009 or take a tour through our brand new website!
Make a splash and follow Aqua-Bright Irrigation & Illumination on Facebook, Twitter, Google+, and LinkedIn! For examples of our work, check us out on Pinterest, too!
Source:
http://www.energystar.gov/index.cfm?fuseaction=find_a_product.showProductGroup&pgw_code=LB