Are you surprised you're experiencing mold problems? You keep your home clean & tidy as possible, yet you smell an unpleasant odor. You see black mold growing on your wall. What's really the problem? What's the key to home mold prevention?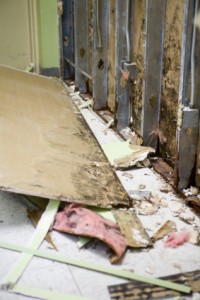 To resolve a mold problem and protect your home from mold in the future, you need to identify how to properly control moisture in the home. Mold growth can happen anywhere in there home where there's too much mold build up.
There are good molds and bad molds. Good molds can create penicillin and decompose organic matter outdoors. Often at times outdoor mold spores can enter the home undetected. Once the mold spores land on a moist surface where they can thrive, you can experience a potential mold problem. Mold can spread rapidly in your home if you put mold eradication on the back burner.
Where can mold grow in your home?
Virtually anywhere in your home. Mold can grow on food, carpet, walling, ceiling tiles and paper materials. If you have leaking pipes or moisture condensation present, you should have those water problems serviced as soon as possible.
By overlooking your mold problems, you are compromising your health and the structural integrity of your living corridors. The best strategy to protect life and property from mold problems is to have a professional mold remediation technician develop you a mold preventative plan that addresses potential moisture problems. There's no such thing as mold proofing your property but a mold remediation technician can make your property as mold resistant as possible.
What will the professional mold remediation technician do to protect your home from mold?
1. Dry up wet areas and eliminate sources of moisture buildup.
2. The mold specialist will make sure your property has proper ventilation systems installed. Bathrooms, the kitchen and your laundry room should always have excellent vent systems.
3. The mold specialist can provide you a list of mold resistant products you can install for your home such a gypsum board. For the best mold prevention, the mold specialist should identify how to keep the indoor humidity of your property in the 30%-60% range.
Mold is a major threat to your quality of home living. Mold can kill family pets and make family members very ill. Although the fungus can grow year round, there are ways to keep mold growth under control.
Remove moisture, limit warmth and reduce food supply for mold spores. If you smell a musty odor, see discoloring throughout your home or see visible mold, you need to hire a certified mold remediation company.
Anytime water removal and remediation services are concluded, we always inform our client about the project completion and schedule testing/ inspections to ensure all water and mold problems have been removed from your property. If there are still problems (within a designated time period, after water removal or mold remediation), we will come back to your property to conduct remediation or extract water again without charge.
Our technicians are always helpful and professional no matter how complex or tough your water problems or mold problems may be.
For more information about outdoor lighting in Maryland, call Aqua-Bright today at 410-489-9009 or take a tour through our brand new website!
Make a splash and follow Aqua-Bright Irrigation & Illumination on Facebook, Twitter, Google+, and LinkedIn! For examples of our work, check us out on Pinterest, too!
Source:
http://www.mnn.com/your-home/at-home/stories/how-to-prevent-mold-9-tips http://money.cnn.com/2004/03/12/pf/saving/willis_tips/