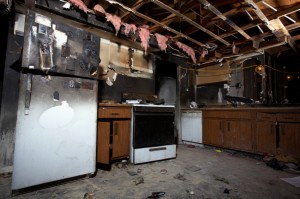 Mildew thrives in the damp and dark, so if your home has recently experienced flood damage to the basement or ground floor, you may find that you have a mildew problem on your hands. The smell alone is reason enough to want to get rid of mildew in your home, but there are other issues as well. Mildew spores can cause you and your family to become ill or to have allergic reactions, so it's best to eliminate both the odor and the mildew all at once. Aqua-Bright has a few tips on how to tackle mildew in your home.
First thing's first, you need to find the source of the mildew odor. Find the source, find the mildew! If the mildew is growing on a rug, damp cardboard, paper, or anything else like that, it's best to go ahead and throw them away. While you can wash fabrics, such as a rug, it can be difficult to entirely remove the mildew from them, and papers and cardboard are disposable anyway, so it makes sense to get rid of them altogether. If the mildew is growing on an installed carpet or a wall, wash the area thoroughly and carefully with bleach and water, and then be sure to let it dry completely.
To eliminate the lingering mildew odor, store-bought sprays and air fresheners are always an option. You could even use scented candles to mask the odor if it is mild enough. However, you can also use home remedies. Baking soda will absorb mildew odors as effectively as it absorbs odors elsewhere, as will cat litter. Just be aware that replacing the litter every couple of weeks will be necessary to keep the area smelling fresh.
To prevent the further growth of mildew and the return of that smell, keep the area as ventilated and dry as possible. If you can open a window, run a fan, or use a dehumidifier, these are all ways to stop mildew from forming.
Looking for more information on mildew, waterproofing, and flood damage? Call the experts at Aqua-Bright today for more information.
For more information about outdoor lighting in Maryland, call Aqua-Bright today at 410-489-9009 or take a tour through our brand new website!
Make a splash and follow Aqua-Bright Irrigation & Illumination on Facebook, Twitter, Google+, and LinkedIn! For examples of our work, check us out on Pinterest, too!
Source:
http://www.doityourself.com/stry/4-tips-to-getting-rid-of-mildew-smell-in-the-house