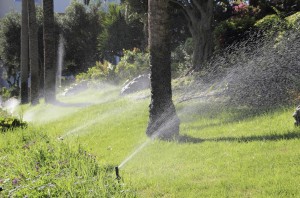 Lush green lawns are synonymous with summer, along with barbecues, pool parties, beach trips, and plenty of sun. Making sure your plants are properly watered can be a time consuming task, especially if you have a large lawn. Depending on the needs of your plants, varying from flowering species to fruits and vegetables, you may have very specific timetables that come into play.
While some people may enjoy taking the time to water each plant according to its needs, a terrific alternative is an irrigation system that allows you to reap all the rewards with minimal work. An irrigation system that is properly designed, maintained, and managed will apply water to plants as needed, and only the amount necessary to replenish soil moisture that has been lost due to evaporation or transpiration.
Installing an irrigation system may seem costly upfront, but there are many advantages to installing a sprinkler system or a drip configuration as part of your Baltimore irrigation system:
-Both systems can be set on a timer, making it so that you can spend time with your family and friends rather than watering plants for hours in a hot yard.  Because your irrigation system is targeted to water plants as needed, you are distributing far less water than you would were you to use a garden hose on your plants, which can reduce your water bill significantly.
-Both systems produce smaller droplets than a standard garden hose, lessening the likelihood of too much water seeping into the soil. When there's too much water, plant nutrients tend to leach out with the water runoff, leaving the plants with fewer nutrients for nourishment. A properly installed irrigation system can help prevent withering or root disease while preserving nutrients.
-A specialized drip irrigation system can prevent disease and weeds by directing water specifically to each plant's rootball, rather than sprinkling the entire garden like a rainstorm would. By directing the water so specifically, weeds are unable to germinate, making weeding one less task to do on the weekends. A drip system also prevents leaf diseases caused by standing droplets on the foliage, meaning your garden stays healthy and alive all summer long.
There are many benefits to an irrigation system and at Aqua-Bright, we are more than happy to help you set up a system that makes the most sense for you. We take our time and pay attention to every detail to get the job done right. For more information about irrigation systems in Baltimore, Maryland or the surrounding areas, call Aqua-Bright today at 410-489-9009 or visit our website.
Source: http://homeguides.sfgate.com/advantages-irrigation-systems-43960.html