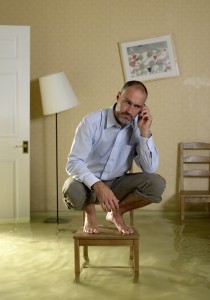 It's another stormy afternoon in Baltimore and you've just gotten home from a long day of work. The phone has been ringing off the hook, the number of unread email in your inbox is higher than the national debt, and to top it all off, you had to sit in an hour of traffic for what should be a 15 minute commute home. Even though you know to expect it on rainy days in the Baltimore area, it doesn't mean you like it. You finally get home and want to spend the evening curled up on the couch catching up on TV. You head down to the basement to grab a bottle of wine and your day gets infinitely worse: your basement floor is under about 2 inches of water.
Does this scenario sound like something that happens to you more frequently than you would like? Sounds like it might be time to invest in an underground drainage system.
What are the Benefits of Underground Drainage?
Solve the problem from the outside – Many companies and individuals choose to take care of the problem after it's happened in their homes with sump pumps and other drainage systems. Using a French drain or redirecting rain water from downspouts to your underground drainage system ensures that the water will never make it into your basement in the first place. It will save you time and money on damages to your home.
Improve your home landscaping – Allowing water to sit on your lawn can be bad for it for a couple of different reasons. Excessive water can kill your grass or cause mold to grow. It's also very unattractive. If you're focusing on improving your home's curb appeal, underground drainage is a great solution. You can make underground drainage match natural surroundings and blend in to your property with ease while siphoning off unwanted water.
Move the water to a safe place – Instead of letting the water accumulate and potentially causing flooding at your home or in your area, you're making sure that the water is moved somewhere that it should be. Excess water can be shunted to the street or your local drainage system so that there's no worry of it accumulating on your property and killing your plants. Additionally, you'll ensure that the water stays out of your basement.
Underground Drainage Installation
If you've decided on underground drainage, you want to make sure that it is properly installed. It's a really bad DIY project that could lead to some really big problems. Make sure that you're calling your local irrigation experts to get started with your underground drainage system.  To talk to someone about irrigation system winterization, in Baltimore, Maryland or the surrounding areas, call Aqua-Bright today at 410-489-9009 or take a tour through our website.
Illuminate yourself and follow Aqua-Bright Irrigation & Illumination on Facebook, Twitter, Google+, and LinkedIn! For examples of our work, check us out on Pinterest, too.
Source: eHow